CASE STUDY
ACO SKINCARE
Trellis called in Frank Collective to help develop a strong roadmap for Tina Davies to rebrand and migrate to a more scalable infrastructure on Shopify Plus. ATrellis internationalized the ACO skincare brand to the United States and implemented a new Shopify+ store for their newest market.
Project Brief
The ACO skincare story is rooted in Sweden with a deep scientific heritage. Founded by the Apotekarsocieteten who sought a quality stamp for their skincare products originally developed and created in the pharmacies, the name ACO was chosen as an abbreviation of Apotekens Composita, meaning "the pharmacy's mixture."
Their journey of becoming leaders in Swedish skincare quickly turned into international expansion across Europe. ACO has evolved to now encompass a full line of cruelty-free products with carefully-selected ingredients to suit all skin types, in almost any climate. After successfully launching their German eCommerce store, they were ready or the next chapter in their story: US expansion.
Trellis worked hand in hand with ACO to internationalize the existing German Shopify experience over to the US market. Aside from the client being based overseas, internationalization projects come with inherent roadblocks like site translation, legal reviews, dynamic content updates, multi-currency payments, and systems integrations across multiple continents.
Platforms
Shopify
Services
Design
Development
Integrations
Strategy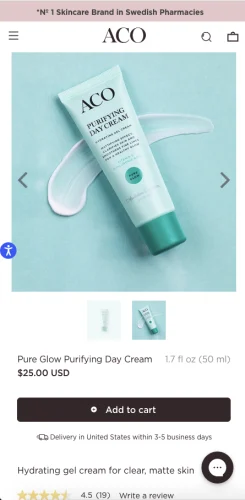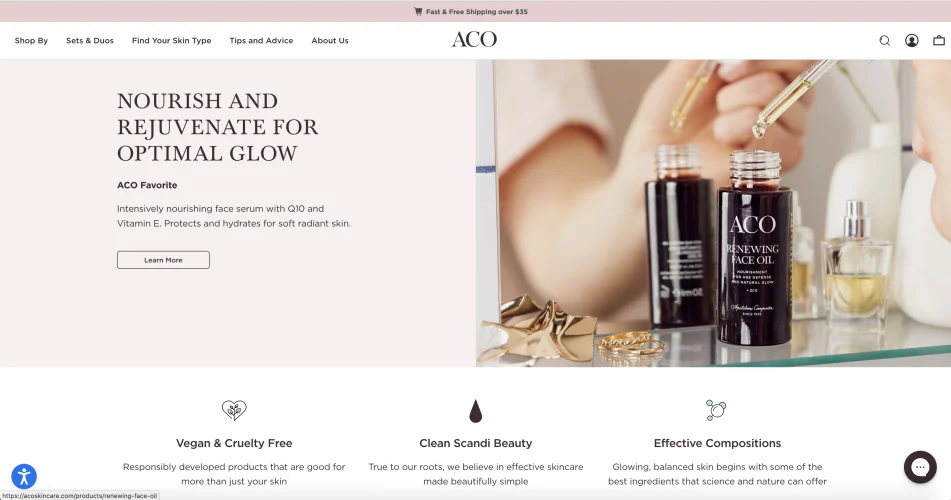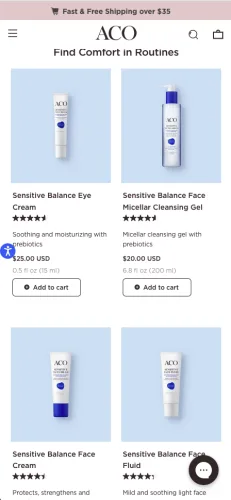 Results
ACO needed a strategic partner that could effectively communicate and oversee the complex internationalization process for a brand of this size and stature. The existing German site did give us a foundation to work with, however additional optimization requirements includes some custom development, UX tweaks, and extensive legal reviews. Not only did the teams fully translate the German store to English, update the design and flow of the site, but completely custom experiences were added to offer higher levels of personalization and  conversion.
The Trellis frontend team had to jailbreak Shopify Plus and build a Bundling functionality, where the ACO team could assemble individual products into a bundle product to be sold a discounted rate. Additionally, adding the Free Shipping progress bar on Cart, where customers can see a visual progress bar that shows them how close they are to earning Free Shipping on their order was also built custom.
Trellis ensured that all third-party integrations and technologies like Gorgias, Klaviyo, BazaarVoice, AccessiBe, OneTrust, Avalara, and multiple payment options were fully functional and also integrated this Shopify stem with their existing SAP integration. Supply chain issues threatened the project timeline, but Trellis continued iterative improvement and successfully launched the ACO skincare's US store in time for the busy holiday season.
View Project