BigCommerce Implementation
Starwest Botanicals
Trellis migrated Starwest off a disjointed two-website Magento experience onto one Bigcommerce B2B / B2C website.
Project Brief
In 1975, Starwest got its start selling herbs in a small retail shop in Sacramento, California. The original mission was the same as it is today: to make high-quality botanicals accessible and to share this healthy lifestyle with our friends, family, and community. In the late 70s, they bought their first herb mill, began selling products wholesale, and started importing herbs and spices from around the world.
Now, Starwest is one of the largest suppliers of organic botanicals in the country. They offer an extensive, diverse, and carefully curated selection of premium-quality botanicals, spices, teas, and 100% pure essential oils. As a supplier, they provide both to the consumer and business markets.
Starwest had an old Magento 1 website that had a different site for B2B and B2C. This was a confusing experience and led to more overhead than your average website. They needed a path to migrate to a new platform that was easier to manage and lower cost to maintain. They also needed a brand new design and better integration to their ERP.
Platforms
BigCommerce
Services
Design
Development
Hosting
Integrations
Marketing
Strategy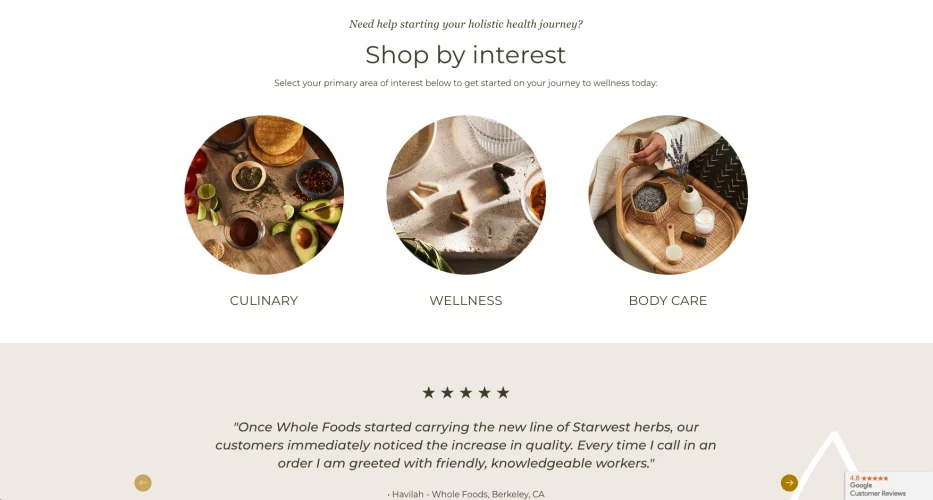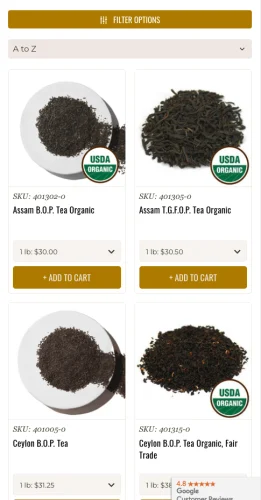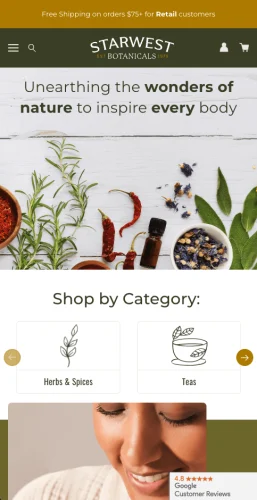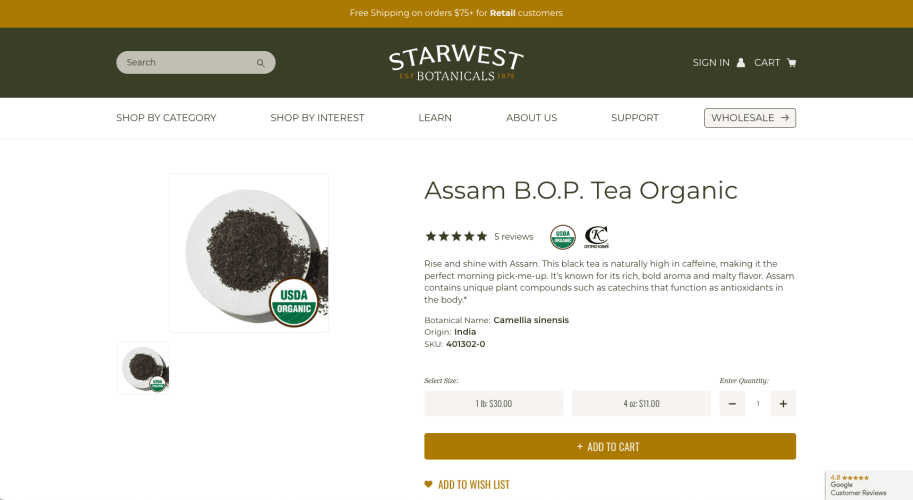 Results
Trellis partnered with Starwest Botanicals and their owners Incline Equity to devise a plan to move to BigCommerce. BigCommerce was the best choice because it offered a low cost of ownership as a SaaS platform, but the flexibility they needed to handle B2B and B2C in one website. We started with a robust discovery phase to figure out all the requirements and a plan to execute them on BigCommerce.
Once discovery was complete we executed the design, all the development, and managed all the third parties involved along with Starwest. In the end they only have one BigCommerce website to manage and are on the path to more sales than ever on the website. They can now scale on a modern infrastructure that has massive room to grow and don't need to spend a lot of money on bug fixes and upgrades like a non SaaS Platform.
They are fully integrated with their ERP, Syspro, and are using many modern features like Search Spring and other modern BigCommerce apps.
View Project