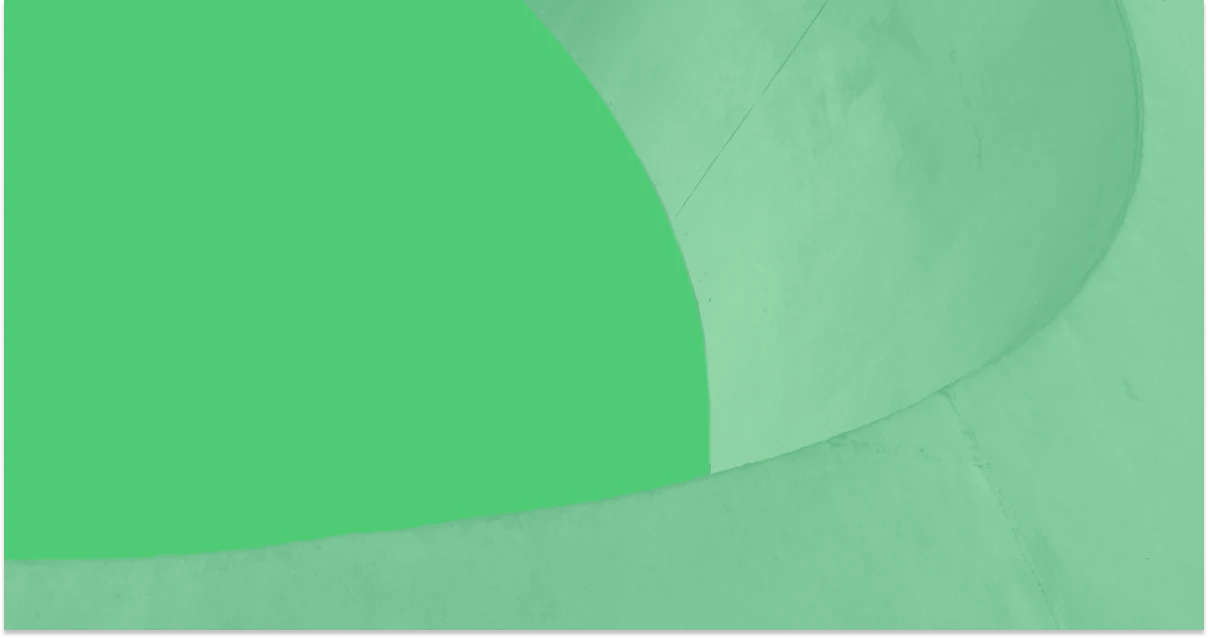 A few weeks back, Amazon announced that they would be freezing shipments on any products deemed" non-essential" for sellers using FBA services. This news shocked the eCommerce world since so many brands and services rely on the Amazon marketplace for revenue. Amazon's fulfillment services have been stretched thin due to the onset of COVID-19. Many items are out stock, cannot be delivered for weeks, or are unavailable indefinitely. The majority of these problems have been caused by the overload of eCommerce demand. Since Amazon is the market leader, they have seen the most traffic and can not handle it all. Now is the perfect time to explore other sales channels for your eCommerce business.
One of the main pillars of investing is to diversify your portfolio in order to mitigate risk. Similar logic can be applied to your eCommerce business and the makeup of sales channels in which you sell your products. However, many brands have "put all of their eggs in one basket" by focusing on a single sales channel. With COVID-19 disrupting businesses all over the world, now is the time to reevaluate the channels you wish to sell on. There are over 100 to choose from, each with their respective pros and cons. Let's take a look at the various marketplaces, social media apps, and online sales channels out there to help get your goods into consumer's hands.
What Is an Online Marketplace?
At its core, an online marketplace is an eCommerce site that offers many different products from many different sellers.
There are many online avenues to sell on, but these are the most common categories:
Why Expand to Online Marketplaces?
Online marketplaces raked in over 2 trillion dollars in revenue in 2019 transactions alone. The eCommerce boom began years ago and shows no signs of slowing down. The popularity of the online platforms is rising while their internal teams simultaneously innovate and improve the customer experience of the channel. Both of these factors are competitive advantages for third party sellers looking to increase their online footprint. Great user experience makes shopping exponentially easier for online shoppers. This is handled internally by the platform itself, so solid management and maintenance is important to keep sellers listing items and maintain consumer traffic. The online marketplaces do a lot of work on the frontend and backend to ensure a smooth experience throughout the platform. The aim is to create potential value to be captured by all parties involved and ultimately keep customers happy.
The Biggest Benefits of Selling on Online Marketplaces
1. Quick Startup Times
For those new to eCommerce, these marketplaces offer a streamlined approach to getting started selling online. While you are in the early stages of your business – developing your D2C website, generating traffic, and building your brand – you can generate immediate revenue by listing your goods on online marketplaces. We have discussed time and time again the complexities associated with setting up eCommerce and optimizing operations thereafter. However, the process of getting started and listing items on these marketplaces is quick and easy for the most part.
2. Established Infrastructure
The major marketplaces have established practices and procedures in place to help you easily navigate the waters of marketing, selling and fulfilling. They have online guides and human teams to aid you in your efforts to get started on the platform and optimize the processes long term. The platform's ease-of-use and added features is what make it desirable for sellers. Remember, there are a TON of marketplaces to choose from so these channels must market themselves and make them attractive for potential sellers. It is a 2-way street!
Amazon, eBay, and Google respectively offer Amazon Advertising, eBay Promotions Manager, and Google Shopping to help sellers manage their listings. Each of these digital marketing assistants is full of tools to help sellers get their products in front of their target audience. Other tools options like Fulfillment by Amazon or eBay Global Shipping are only available on certain channels and can help your business serve consumers quicker. A marketplace that helps brands manage, pack, and ship orders offer more value than one that does not.
3. Popularity
The established marketplaces have loyal user bases that offer an immediate audience for your brand. Amazon, eBay, and Walmart generate over 7 billion monthly impressions. Getting your products in front of these customers is as easy as listing the product and optimizing the search inputs just a little bit. Getting started with an online marketplace offers an immediate impact on your bottom line. while reducing much of the friction associated with the online sales process.
Where to Sell
There are hundreds and hundreds of online platforms available to help sell your products and services. It would be nearly impossible to cover all of them, so we are going to examine some of the top players in the main categories. The list is not exhaustive so be sure to do some research on your own or contact the Trellis team for curated strategic planning advice.
General Marketplaces
Amazon is the market leader and the name that comes to mind when most people think about eCommerce. Over 50% of people begin their online search on Amazon, but quickly explore other shopping options. This leaves trillions of dollars on the table for other marketplaces to capture.
1. Walmart
Walmart is the largest retailer in the world, and in 2000, it entered the eCommerce game when it launched its marketplace, Walmart.com. Now, the site draws over 110 million monthly visitors across the United States.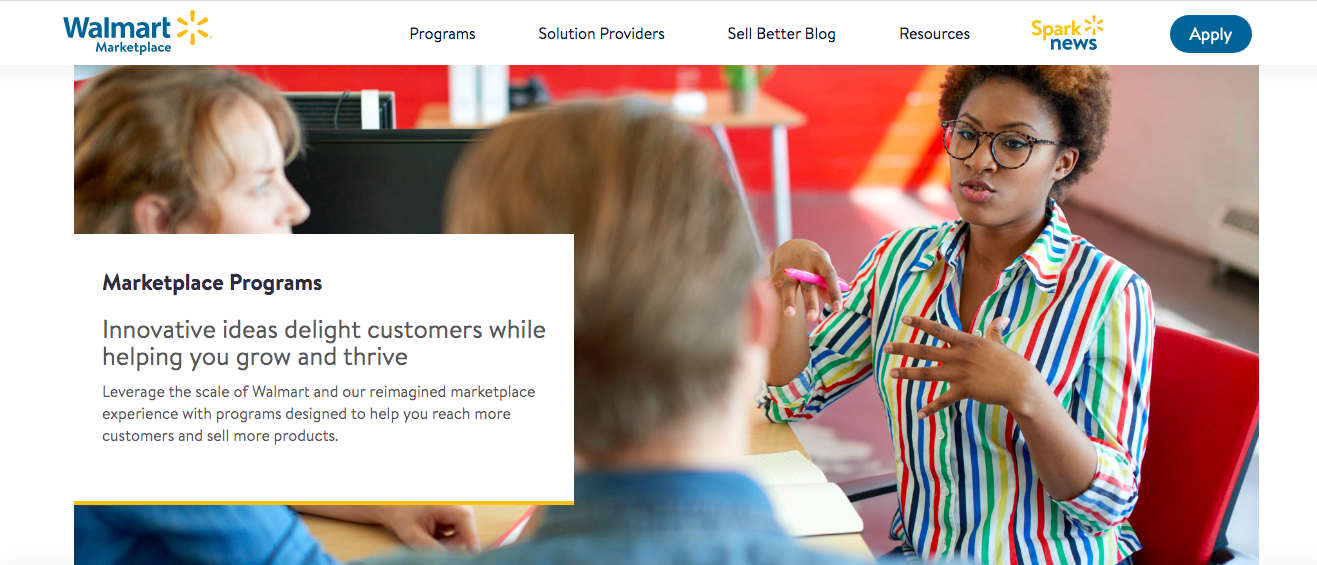 Like Amazon, the Walmart marketplace is ideal for medium to large sellers that want to increase their exposure. However, there is an application process to weed out any sellers that do not belong on the platform.
To be approved, you have to have fast fulfillment practices in place, a wide range of high-quality products, and competitive pricing. Walmart doesn't accept sellers that only use FBA, but they do cater to drop shippers. Keep in mind, you can only sell as either a drop-ship vendor or a seller, not both. Walmart also offers its own fulfillment service – Walmart Fulfillment Services (WFS).

Since Walmart's been around for so long, shoppers know the brand really well. As a marketplace seller, you can take advantage of this recognition since your listings look similar to Walmart's listings. For product categories that get a lot of traffic, you can use your pricing, custom shipping, and return policy information to stand out and increase your sales.
Other benefits to using Walmart's marketplace include access to their customer support and safety features. Plus, the marketplace integrates with various service providers, so you can automate as much of the selling experience as you want.
Marketplace cost: There isn't a monthly fee, but a commission fee of 8-15% is typical.
2. Jet
Founded in 2015, Jet is a relatively new marketplace. The platform began with 100,000 invites but quickly grew and was acquired by Walmart as one of the fastest growing online retailers. The site is booming and boasted 2.6milllion American visitors in the month of March alone.
Jet has many key features that separate itself from the competition. Jet's suite of algorithms allows for a curated approach to eCommerce, but it also makes the platform a bit more complex to understand.

Jet offers an entirely unique pricing algorithm, offering discounts to customers based on the number of items they buy and the seller's location. This creates a larger spend per order and incentivizes customers to buy more in order to save. These savings are recognized by the customer but not financially realized by Jet. Customer loyalty is increased resulting in repeat buyers and customer lifetime value (CLV) increases as well.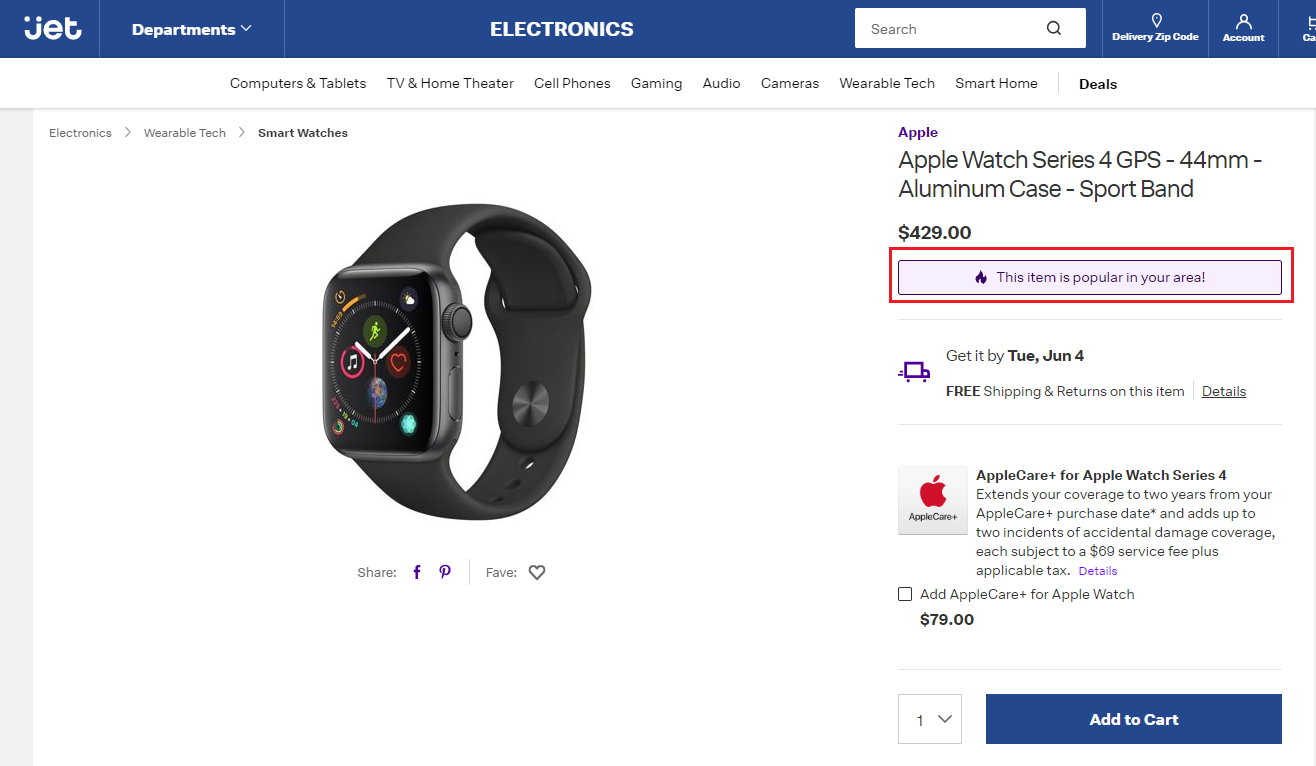 Unlike Amazon, Jet values lower prices over fast delivery. The algorithms factor in user location, goods location, and company location in order to best fill the product feed for users. The platform also can serve as a CRM by collecting email addresses natively. You can use this data for targeted marketing, promotional materials, or internal records.
Marketplace cost: Commission 5-15% based on product category.
3. Newegg
The Newegg online marketplace is different because it specializes in one product category. While the marketplace predominantly focuses on computer hardware, it does also sell products from categories such as consumer electronics, gaming, apparel, sporting equipment, and even homeware.
Newegg helps with this by offering sellers access to marketing and merchandising programs. With banner ads, features on the Hot Deals page, and inclusion in email marketing campaigns to Newegg subscribers, you get lots of exposure to the over 20 million shoppers who visit Newegg annually. Newegg also offers marketing managers to help you with paid ads.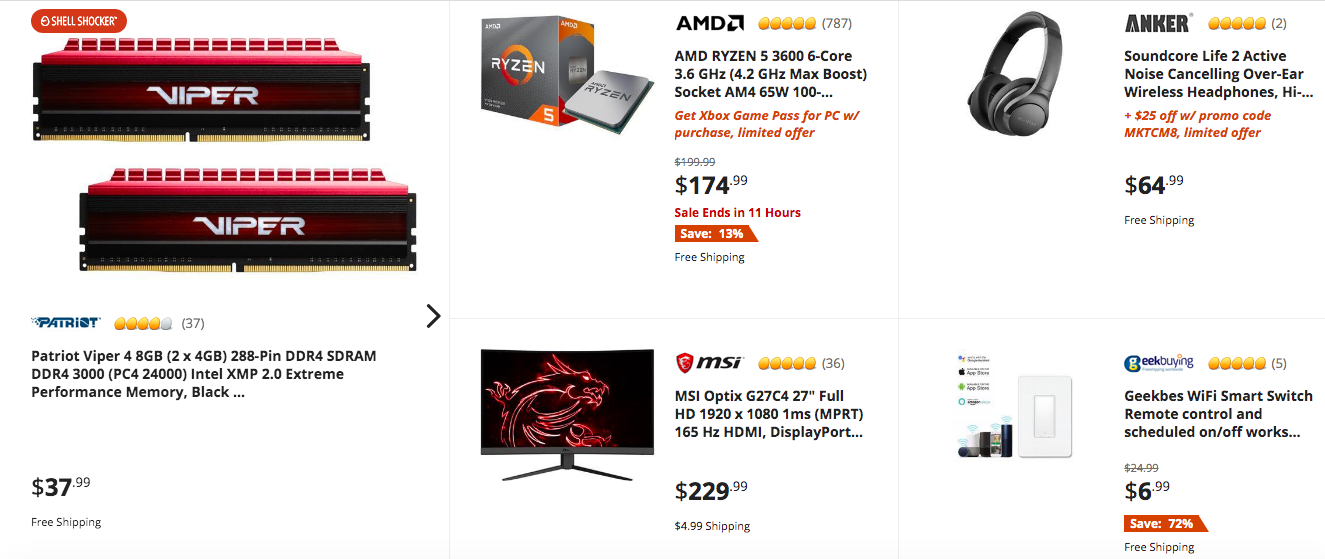 To simplify your shipping, Newegg also offers its own fulfillment option called Shipped by Newegg (SBN). Newegg will store your inventory, then pack and ship it as orders come it.
Marketplace cost: Commission fees, ranging from 9-15%, depending on your product's category.
4. Rakuten
Rakuten is the fourth largest eCommerce site in the world. If you will, Rakuten is the Japanese version of Amazon. Rakuten is a good fit for medium to large sellers that want the option to ship beyond North America and grow their business internationally.
With Rakuten, once your application to become a seller is approved, you get a storefront you can customize so that shoppers can easily identify your brand. You also set up your own privacy and return policies. Rakuten offers loyalty programs through eBates and the Rakuten Super Points loyalty program to help customers be incentives to spend more and track their buying habits.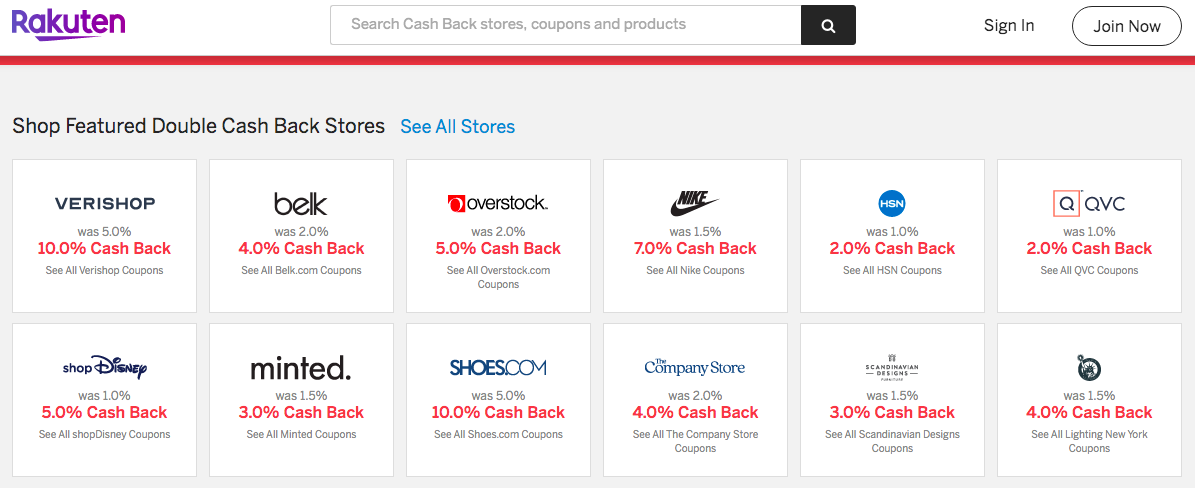 Marketplace cost: $39/month + a $0.99 transaction fee per item sold
5. Sears
Just like Amazon and Walmart, Sears has an extensive product offering, selling everything from fitness equipment, clothing, and jewelry, right through to tools and kitchen appliances.
Sears does also operate their own fulfillment service, Fulfilled by Sears. The service includes benefits like 24/7 customer support, as well as flexible payment terms thanks to their pay-as-you-go pricing model.
The biggest difference between Sears and the industry leaders are the pricing model and audience reach.
Marketplace cost: $39.99 monthly fee
6. Wish
Wish sits as the sixth largest eCommerce company worldwide. Their platform is designed for mobile users and reach over 300 million customers annually. The marketplace offers a revenue sharing tool that incentivizes sellers to list as many items as possible without listing fees. This encourages a vast product selection and ease of entry to the marketplace.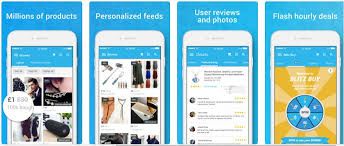 Wish also operates its own warehousing and logistics service, Fulfillment by Wish, where you can ship products to customers in both the US and Europe. Wish also has options to boost a post, buy ads and increase visibility.
Marketplace Cost: No fees for registration, subscription, or listings. Sellers receive a flat commission for roughly 85% of sales price
Handmade/ Crafts Markets
1. Etsy
Etsy is a unique marketplace that caters to shoppers looking for unique products. The user base and product inventory make this online marketplace ideal for smaller sellers specializing in handmade or vintage products. With 36 million shoppers looking for products like vintage clothing, jewelry, and collectibles, there is plenty of opportunities to reach your target audience.
Products on Etsy are designed by consumers for consumers. Esty aims to eliminate the corporate feel associated with most commerce. The goods are handcrafted, customized, and hard to replicate which makes the user experience so unique. Etsy thrives on transparency and visibility. Consumers want to understand who they are buying from to ensure the product is with buying and aligns with their consumer values.
Notice how the seller names are displayed on the results page of this search: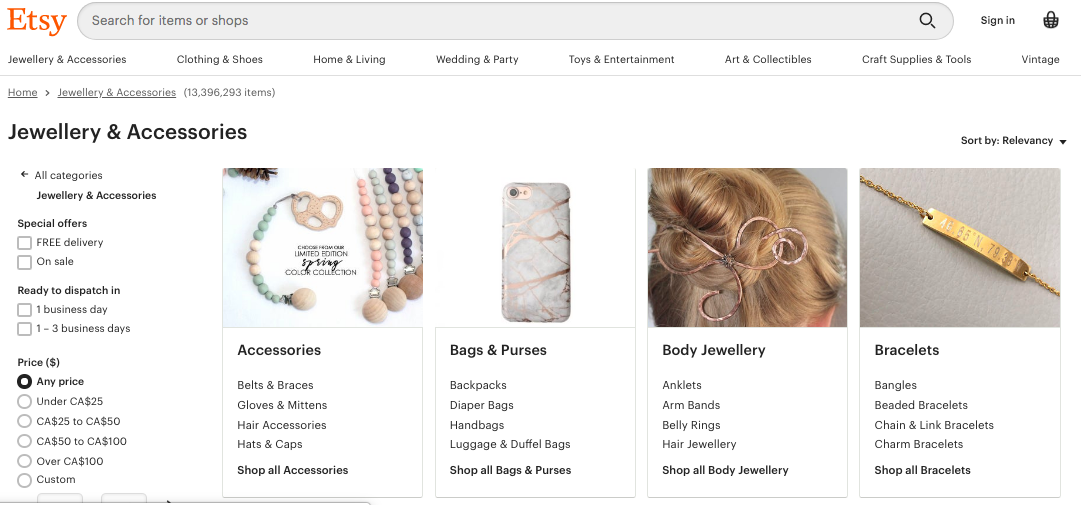 When shoppers click on your brand name within product pages, they're redirected to your custom Etsy storefront.


This preserves your brand identify — especially if you don't have a separate website. If you're just starting out in eCommerce and want to build awareness about your products and brand, Etsy gives you the flexibility to cultivate and nurture a loyal customer base as you grow.

For brands just getting started with eCommerce, Etsy gives brands a chance to build brand awareness and create customer loyalty through your store page on Etsy. The pages can act as your own personal website to build awareness, attract customers, churn sales and communicate the brand's missions and values directly.
Marketplace cost: List products for $0.20 each and pay 5% commission fee, 5% shipping transaction fee, and Etsy patent fee (if applicable)
2. Zibbet
Zibbet is a marketplace of independent artists, crafters, and vintage collectors. It is similar to Etsy. Roughly 50,000 sellers offer mostly handmade products on the site. Zibbet's platform also offers the ability to natively post on other channels. In addition to having their own standalone marketplace and audience, Zibbet offers the ability to post the same product across multiple channels (for an added fee of course). Currently, they offer the ability to list on the Zibbet marketplace, Etsy, and A.C.Moore Marketplace.
With that said, Zibbet permits you to have complete flexibility to have different products appear on each sales channel. If you wish, your products can also have different attributes per sales channel. For example, the same product can have a different title on Etsy to another sales channel it is listed on. This is one of many reasons why Zibbet is so popular amongst experienced sellers.
Marketplace cost: Flat fee of $5 per month, per channel
Social Media
1. Pinterest
Pinterest is a social network that allows users to visually share, and discover new interests by posting images or videos to their own or others' boards and browsing what other users have posted. "Pinning" is the act of posting on your "board" or someone else's. This is how users interact with accounts and find new products or goods they may be interested in. Pinterest serves a different demographic than other social networks. Their reach is more defined and catered to each user.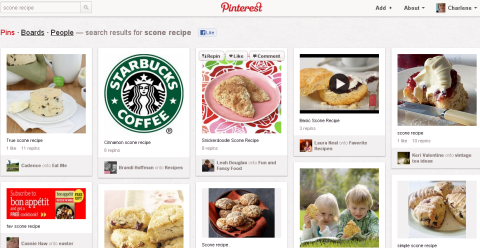 Users select the things they are interested in and create networks of available "pins" for others to view. Using a visual orientation, the platform is focused on the concept of a person's lifestyle, allowing users to share their tastes with likeminded people. Popular products include makeup, clothing, DIY projects, recipes, hairstyles, and consumer goods. These categories overlap heavily with many top eCommerce industries and products which means Pinterest is the perfect playground for digital marketers to go to work and bring additional revenue to eCommerce brands.
The pricing and cost models vary but Pinterest proudly advertises $2 in profit for every $1 spent for their users which is a great baseline for return. Keep in mind costs and results will vary from campaign to campaign. Make sure you have a digital marketer on your staff that knows how to target users and create campaigns cost-effectively.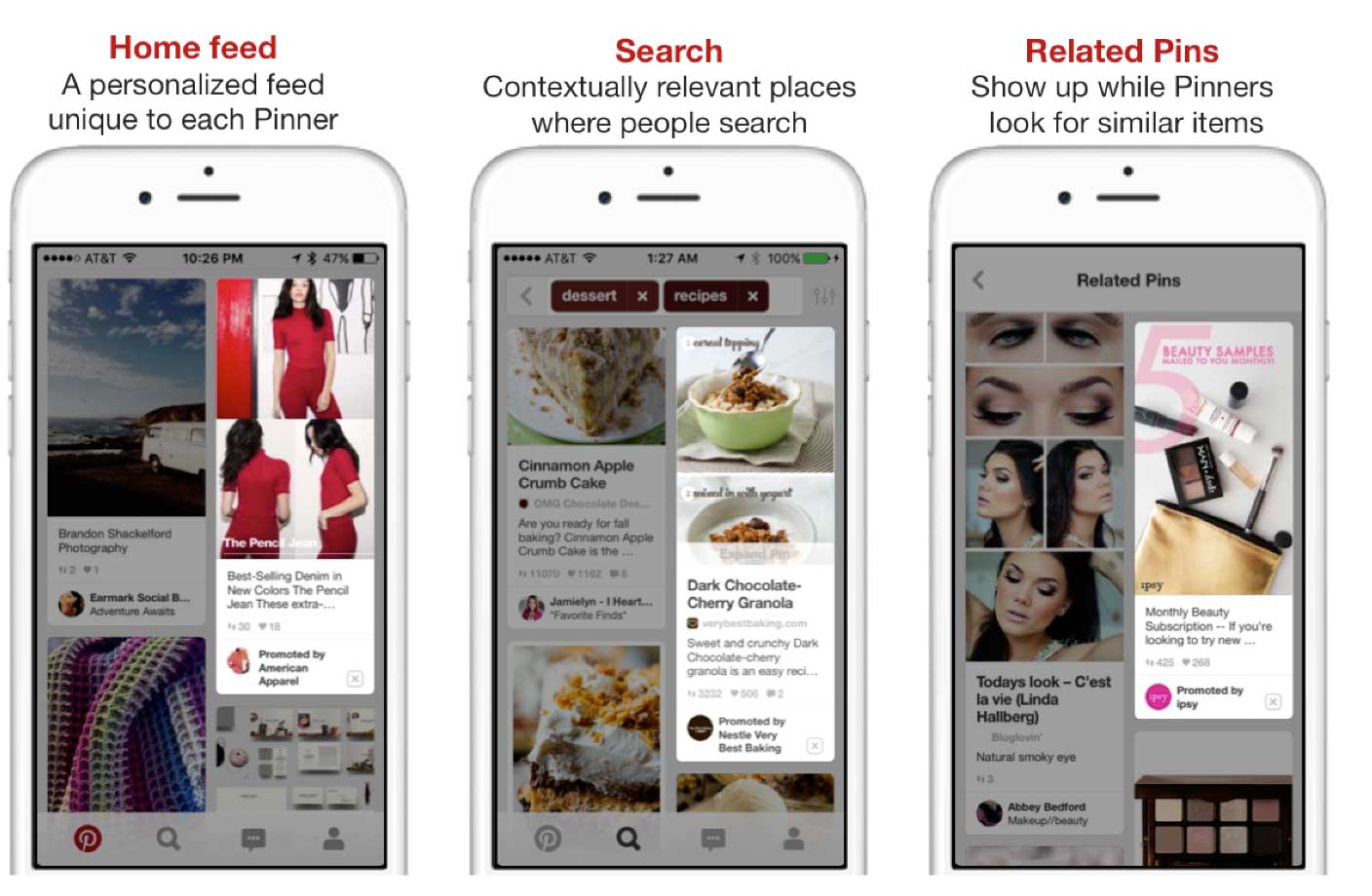 2. Instagram
Instagram's social media platform has skyrocketed in popularity over the years thanks to its high functioning user experience, expansive audience, and trend-setting capabilities. Many people and businesses have built a living from using the Instagrampaltform and now the tech company has added features for in-house browsing and shopping. Influencers now can promote their own products and services directly through their page
Instagram Shopping gives businesses an immersive storefront for people to explore the best products. With Instagram Shopping, you can share featured products through your organic posts and Stories, or have people discover your products in Search & Explore.
When someone taps a product tag on your post or a product sticker in your story, they'll be taken to a product description page where they will see:
An image of the product from your post
A description of the product
How much the product costs
A link that takes them directly to your website, where they can purchase the product
Instagram looks to capitalize on its customer base and brand loyalty but implementing shopping features to add new revenue streams to the business model.
Thousands of brands currently use Instagram to promote their products via their pages and Ads. Instagram Shopping has existed for many months now. Currently, brands can embed prices and descriptions to hover over products that are available in Instagram posts. This allows customers to see something they like, click on it, and instantly receive some pertinent information on pricing and where to purchase it.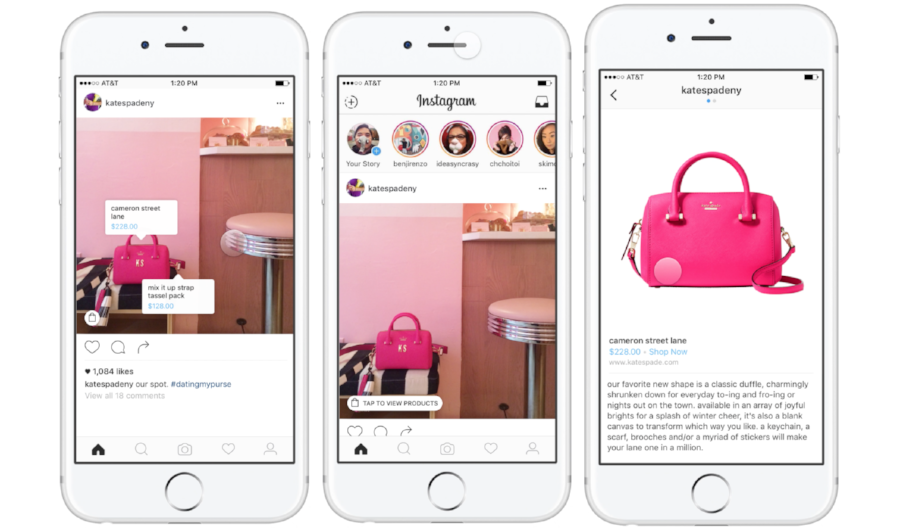 However, users lacked the ability to checkout directly through the Instagram platform. In order to improve the buying process, Instagram is rumored to be working on a fully-shoppable app with a native payment feature. Adding native payments is the most important step to increase conversions on the app.
There is great potential for brands to capture revenue and market share through social media. Many brands have already created empires directly through marketing campaigns via Instagram.
Here are some tips directly from Instagram on how to get started setting up your visual store:
Tips for shopping posts
Create at least one shopping post in the feed to activate the "Shop" tab on your business profile
Feature more than one product in your posts for higher engagement—while not overcrowding with tags
Leverage different shopping formats in feed; tag a single image/video or create a carousel with both static and video content
Tips for shopping in stories
Customize the text color on product stickers to complement your visual creative
Try using product stickers in stories for your product launches or sales announcements
Keep the product as the focal point in videos when using a product sticker
3. Snapchat
Snapchat introduced its very own shopping channel that can be found in the discovery section of the application. Coining it "Shop and Cop", this marketplace offers a limited selection of products ranging from beauty products to apparel. Snapchatters are able to browse and checkout natively through the app.
Unlike Instagram, this feature is designed for short-term deals and sales rather than permanent postings like you may find on a traditional website. Flash deals can impulse consumers through sexy products, good deals, and an easy checkout process.
"Shop and Cop" was introduced to offer uses a variety of Black Friday deals as a test run. Since then, additional products and brands have been added.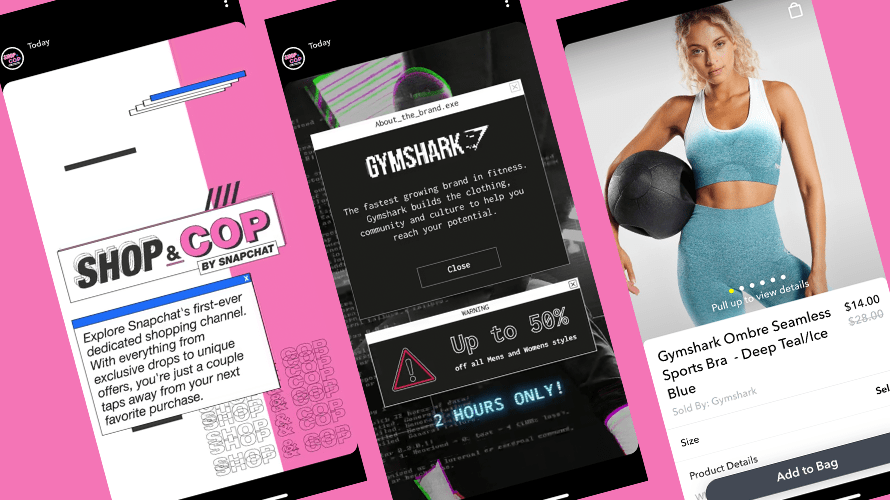 4. Facebook
Facebook has an option to set up a Facebook Store, which can integrate with your eCommerce site to sell directly through your business's Facebook page. This is a great way to simplify your sales process if you have a lot of Facebook followers or if you run Facebook ads as part of your marketing strategy.
Facebook also offers a feature called Facebook Marketplace, which is more like a classified listings site with localized listings. This is primarily used by individuals who wish to resell their own items (similar to Craigslist).
Auction Marketplaces
1. eBay
eBay is a popular online marketplace that most people have heard about or used before. They started off with auction-style listings that allowed users to bid incrementally until the time ran out on the listing. In the past, eBay was used for vintage or second-hand items, rare items or collectibles but now has transformed into a more traditional marketplace like Amazon. eBay offers Buy-it-now or auction-style listings. Some items are ready to ship from eBay warehouses while others are fulfilled by the sellers themselves. eBay has grown a lot since it's inception which allows users to list a more diverse set of items on their site from used, to new, to collector's items- anything can be listed on eBay!
On eBay, listing and selling items is as straightforward as can be. There is no application to become a seller, just download the app/load website, sign up for an account, and list items for auction/ buy it now for the 200 million monthly eBay users.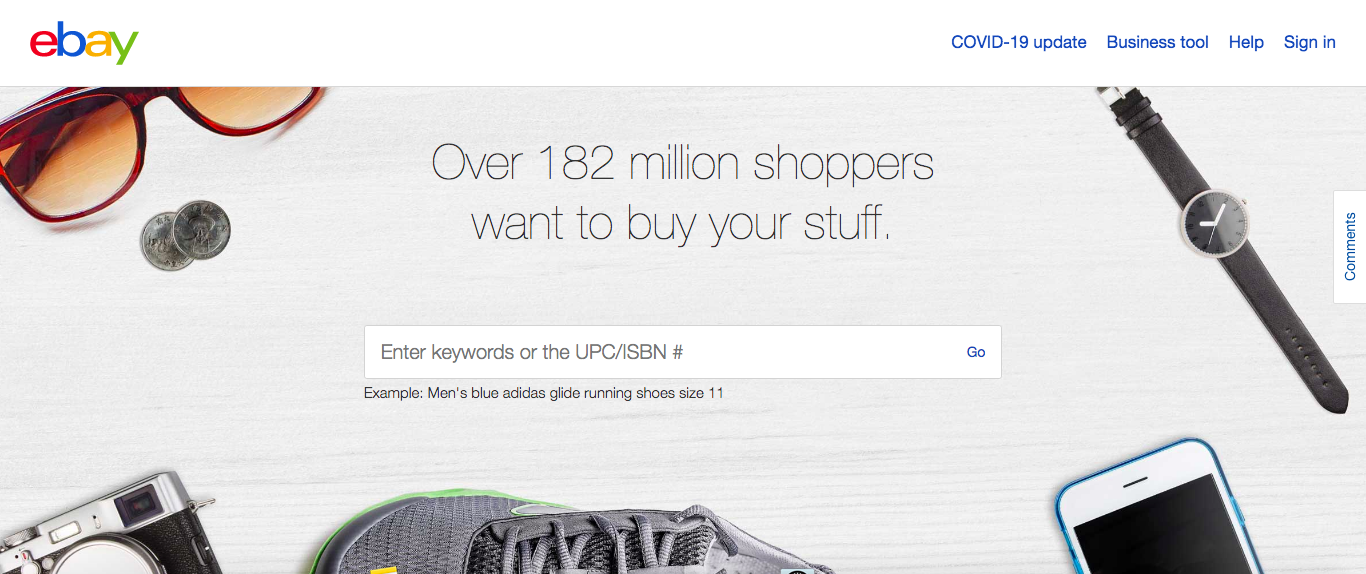 eBay's platform offers a Seller's Hub tool to aid in running the business as smoothly as possible. Features include promotional pricing, shipping tips, and fulfillment guides. On top of that, the business management tool gives you insight into consumer habits and offers the ability to optimize your processes based on the data from your Seller's Hub. Becoming a data-driven company is important for any business small or large and eBay makes it easy to analyze your insights and create actionable plans thereafter. the eBay seller's Hub breaks down your most popular products, promotions used most, shipping and fulfillment data, and more.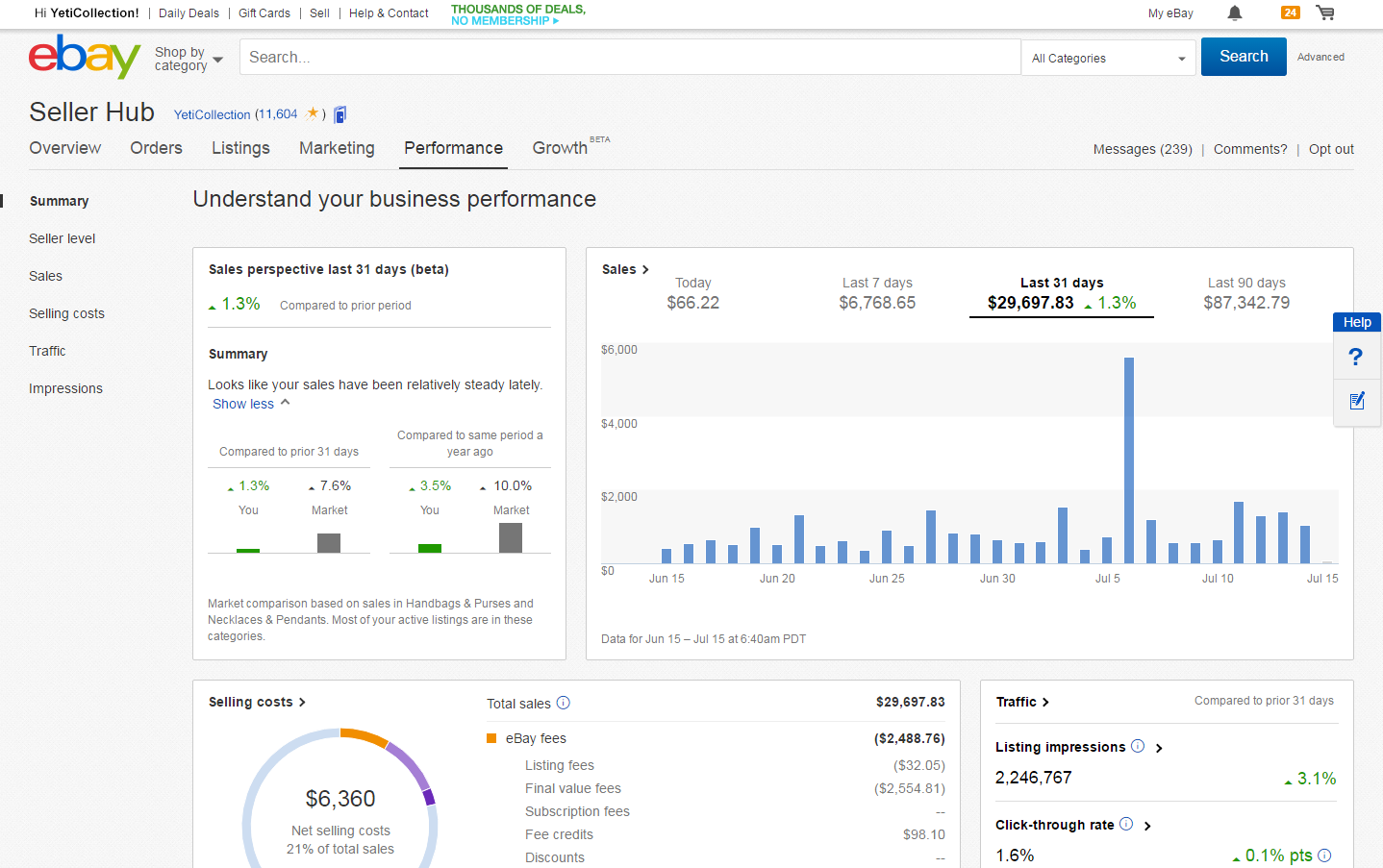 eBay sellers also have the option to open an eBay Shop to benefit from better branding opportunities and merchandising tools, amongst other things. On top of that, eBay's Global Shipping Program (GSP) enables sellers in both the UK and the US to sell to international customers, without the risks of dealing with the processes that come from cross-border selling.
Marketplace cost: eBay's cost model is quite complex, but expect to pay an insertion fee for the listing and a final value fee for the transaction. The policies vary according to the category but for standard goods, the first 50 insertion fees are waived for free and then cost $.35 thereafter. The final value fees range from 2-12%.
2. uBid
uBid is another auction-style eCommerce platform that has offered a wide selection of products since its 1997 launch. The platform has over 5 million registered users and maintains direct partnerships with major brands like Apple, Sony, Samsung, Canon, and Kodak. Users may sing up to be a seller or a consumer, but not both. All items are available directly from vendors or purchased by uBid to sell.
Marketplace cost: Fees calculated based on shipping cost
Subscription Box Services
1. Cratejoy
Over the past few years, the eCommerce landscape has shifted tremendously. subscription boxes have been rising in popularity and serve thousands of different products to various niches of the consumer space. The Cratejoy Marketplace is the only marketplace for subscription boxes, and owners of boxes of any size can use this marketplace — as long as the monthly fee is within your budget.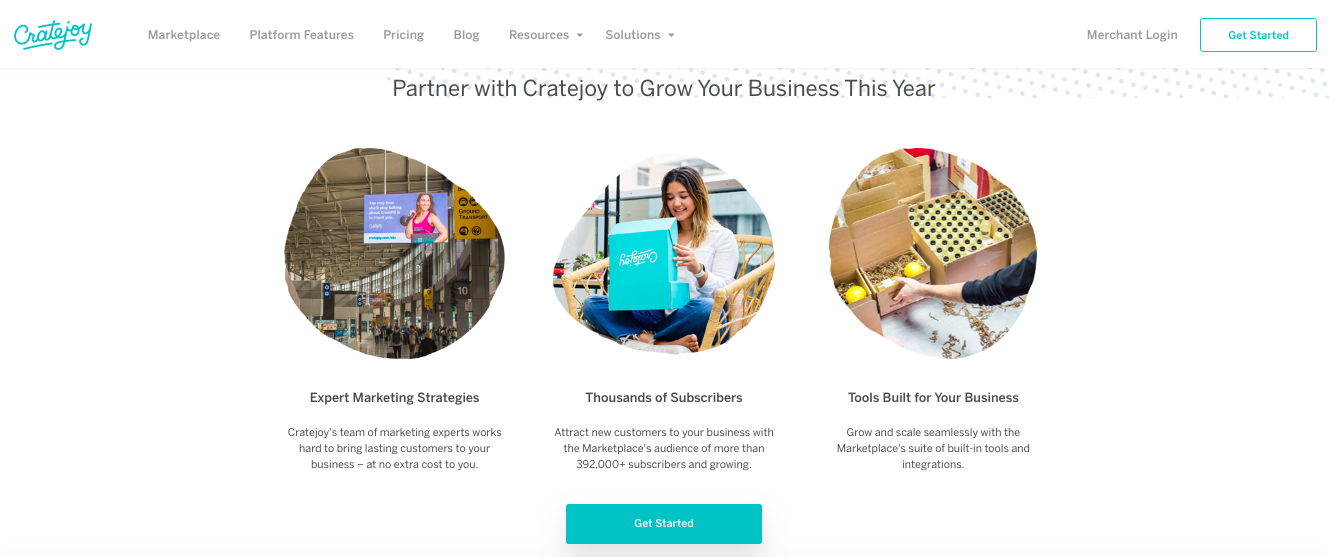 Cratejoy is a comprehensive subscription box software that helps e-commerce business owners to start, grow, and scale their subscription e-commerce stores. The platform includes features such as subscription box CRM, all-in-one dashboard, subscription site designer, powerful analytics tools, shipping, built-in subscription payment methods, referral campaigns, and e-commerce features.
Since subscription businesses operate a bit differently from general storefronts and drop shipping, Cratejoy offers unique features like subscription-specific logistics, fulfillment management and shipping, tax-smart checkout, and resource guides like their blog and webinars..
Marketplace cost: $39/month + transaction fees
Unique Items Marketplaces
1. Bonanza
If eBay and Etsy were to get married and make a baby, Bonanza would be the result. Bonanza is a seller-friendly marketplace with more than 10 million items. It has no listing fees and no monthly store fees. The website offers both new and used products in every category. As a buyer, you're given the chance to purchase both unique and run-of-the-mill items. The platform sh many of the same features as the eCommerce giants but costs less than 1/3 of the fees.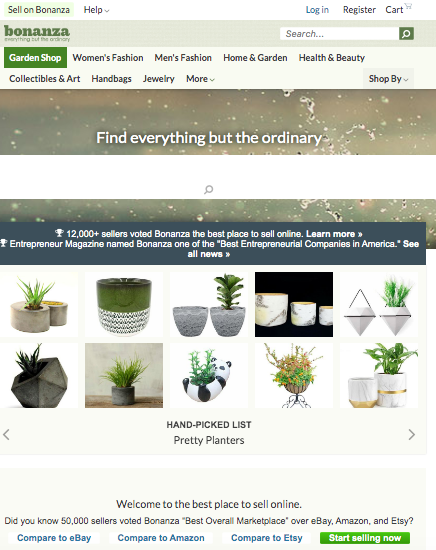 2. Reverb
Reverb is a marketplace for musicians to buy, sell, and learn about new, used, vintage and handmade music gear. It connects millions of people to musical products and inspiration. Roughly 80 million worldwide users visit the site annually. To help users determine market values for instruments, Reverb provides a price guide of real-time transactional data.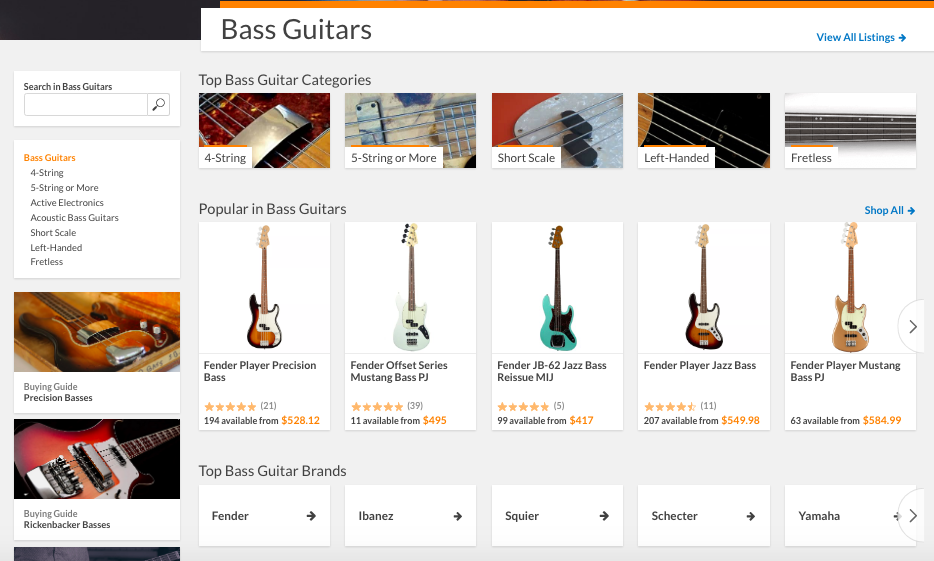 Classified Listings
1. Craigslist
Craigslist has over 55 million active users. The platform is very powerful but is mostly designed for local use. For online businesses that want to scale, there are plenty of better options.
2. LetGo
Unlike Craigslist, LetGo does not mandate paying fees for uploading an advertisement. LetGo is backed up by technologies such as Artificial Intelligence, Geo Tagging and Image Recognition. This helps improve the time taken to upload a product which as recorded is less than 10 seconds. All that a seller needs to do is take a snap of the product and enter the price. The product details are automatically fetched by the app, thanks to image recognition.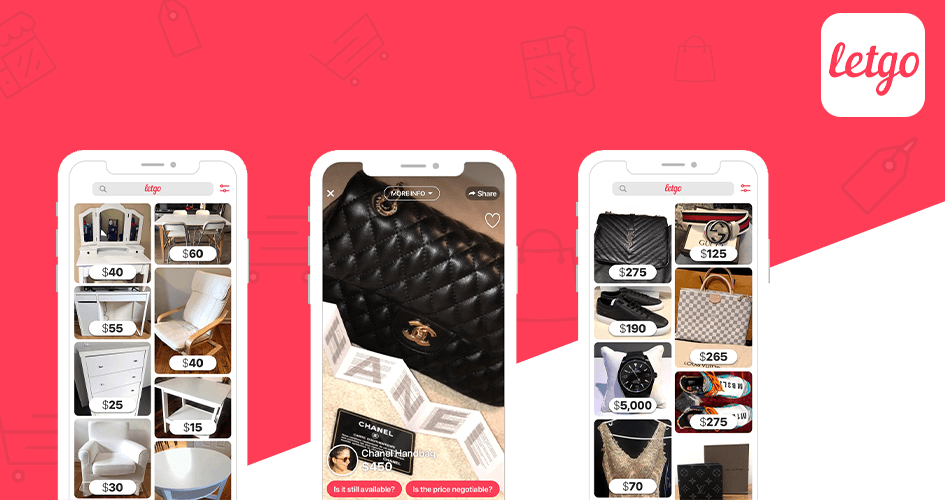 3. OfferUp
OfferUp has replaced Craigslist as the go-to local good and services buying platform. The user experience ins inquisitive and also offers a wide array of products. Users can purchase goods locally or have them shipped out their door through in-house checkout.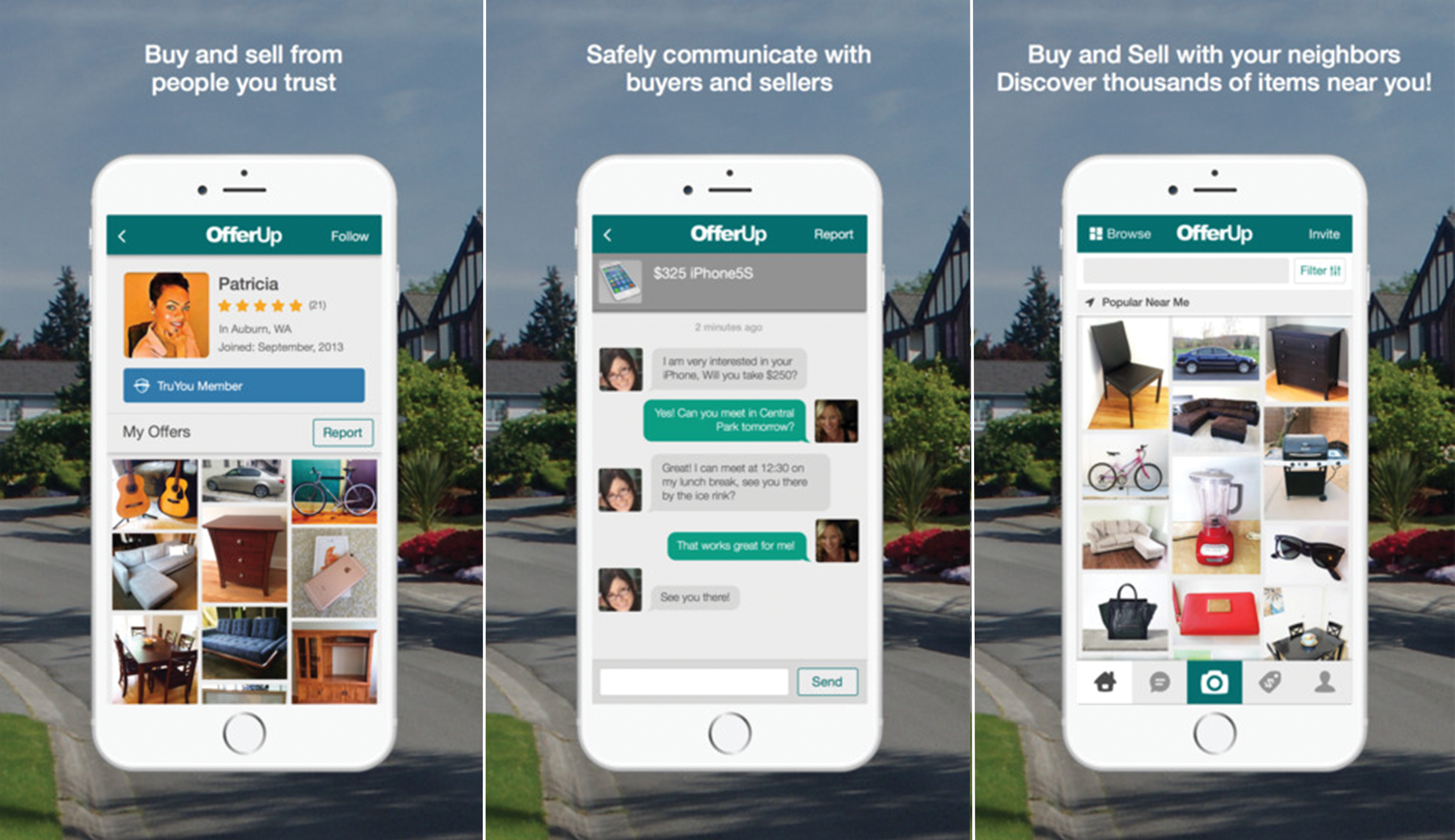 Apart from LetGo, the details of the product as uploaded needs to be filled by the seller itself. There exists a chat window on the top right corner of the product page. This can be used by a buyer to enter into direct communication with the seller. The revenue model of the OfferUp is pretty simple.
Choosing the Right Channel for your Business
So, you are a kid in a candy store, with too many options to keep straight. What do you do? How do you decide?
With such a plethora of options to reach potential customers, it's critical to narrow your focus to that make the most sense for your business, products, audience, and brand. Consider these factors when building your eCommerce sales strategy:
Business model
Payment processing system and cashflow/revenue cycle

How do you collect payments?
Do you accept Paypal, Square, ApplePay, and/or Google Wallet?

Do your profit margins support certain models?

Auctions require a holding period
Commission fees, membership fees, transaction fees

Audience and their habits

Consumer base shopping habits – do your customers spend more time using Amazon 1-click, are they tech-focused, do they enjoy bidding on items for entertainment?
Is your product designed for mass appeal or specific interest groups?

Brand and Market positioning

Who are you serving?

An upscale, luxury brand?
Mass-produced functionality?
Clever, niche products for certain specific groups of people?
Hard-to-find unique items?
20-year-old fashionistas?

Your business goals

Micro – conversions, sales increase, ROAS, LTV
Macro – long-term scalability, segmentation, expansion

Type of product(s) you sell

Are your goods/services popular amongst the average consumer?
Do the products target a specific niche?

Unique, one-of-a-kind items, such as vintage or antique pieces, or custom-built products?

Marketing Strategy

How are you acquiring new customers?
Budget- some platforms are cheaper/more costly to acquire customers
Setting expectations and goals in advance allow for better allocation and analysis of resources
Create KPIs to decide which platforms can measure and serve the best
Conclusion
All great things must eventually come to an end. Hopefully, this guide inspires your business to ascertain the idea of adding new channels to your sales strategy. There are plenty of options to explore, so do your homework and reap the fruits that will follow. Feel free to reach out to us at Trellis with any questions or concerns.