Top Commerce Conversion Tips for 2023

Jack D'Errico

Jack D'Errico
If you have an eCommerce website, you are competing with over 25 million eCommerce websites, with 9.5 million in the US alone. It's no wonder the average conversion rate of eCommerce websites is about 2-3%.
With such stiff competition, the most challenging part of eCommerce is standing out from the rest, which is done through marketing. Once your marketing efforts pay off, and you start driving traffic to your site, you have completed all the heavy lifting. It'd be a shame to lose your leads at that critical point.
But how do you ensure prospects convert to paying customers? Here are helpful commerce conversion tips for 2023:
1. User-Generated Content
Consumers are more receptive and likely to trust user-generated content than marketing messages. The best and easiest-to-acquire user-generated content is testimonials, reviews, and ratings. Simply asking your customers to leave them could significantly improve your conversion rates.
Baymard's product rating studies found that 95% of the respondents relied on reviews to learn more about the product. Prominently displaying them could boost conversions, retention, and average order value.
A social media aggregator allows you to combine all the user-generated content from numerous platforms and curate them in one place.
2. Improve Product Pages Content
Users can tell a lot about a brand from the appearance and content on the product pages—you have a few seconds to make a positive impression. Here are a few tips on how you can make a positive impression by improving your product page's content.
Use high-quality images and videos
High-quality images clearly illustrate to the customer what they want to purchase, enticing them to buy the product. Low-quality photos indicate low-quality products, resulting in high bounce and cart abandonment rates.
Give detailed product descriptions
High-quality images go together with detailed product descriptions that answer all their questions. The customer understands the parts of the product they cannot see, so they make an informed decision. Descriptions that miss essential information could lead to cart abandonment.
Categorizing your products allows users, especially those on mobile, to filter out and see a smaller subset of options at a time. Categorizing will enable them to focus on products they want to see within their budget, increasing the chances of converting them.
Doing the above will make your product pages visually appealing, which will entice customers to stick and look around.
3. Add Payment Options
Your customers have several payment options, such as Klarna, Balance, BNPL, etc. The payment option they prefer during checkout depends on several factors that vary. It would be best if you offered all the major payment options to cater to all needs.
If you can't add all of them, look into which payment methods your audience prefers and add them. However, as you add payment options, keep in mind that the more the choices, the harder it will be to see on a small mobile screen, which can make users overwhelmed and confused.
4. Offer Loyalty
Loyal customers are critical to the success of an eCommerce business. 80% of business profits come from 20% of repeat customers. There are several ways you can make them loyal, including good customer service and creating an excellent user experience. Nevertheless, one of the most effective is creating a customer loyalty program.
A customer loyalty program offers incentives to your customers to make them come back. You can give them perks such as free shipping and discounts or use a points system where they earn points per purchase, which they can use to make purchases later.
However, no matter what you offer them, you should accompany it with a good customer experience and customer service.
5. AI-Based Promotions
AI-based promotions are more accurate at personalizing and predicting shoppers' preferences, so they can drive high-quality traffic to your site. They can forecast and predict the impact of your marketing campaigns on shopper response, improving their customer experience and nudging them towards conversion.
The world's first AI-based promotion tool, Namogoo, adapts to each customer visit and delivers what they need in real-time, improving their online journey and increasing conversion. It identifies and prevents unauthorized ads that divert online shoppers to competitors.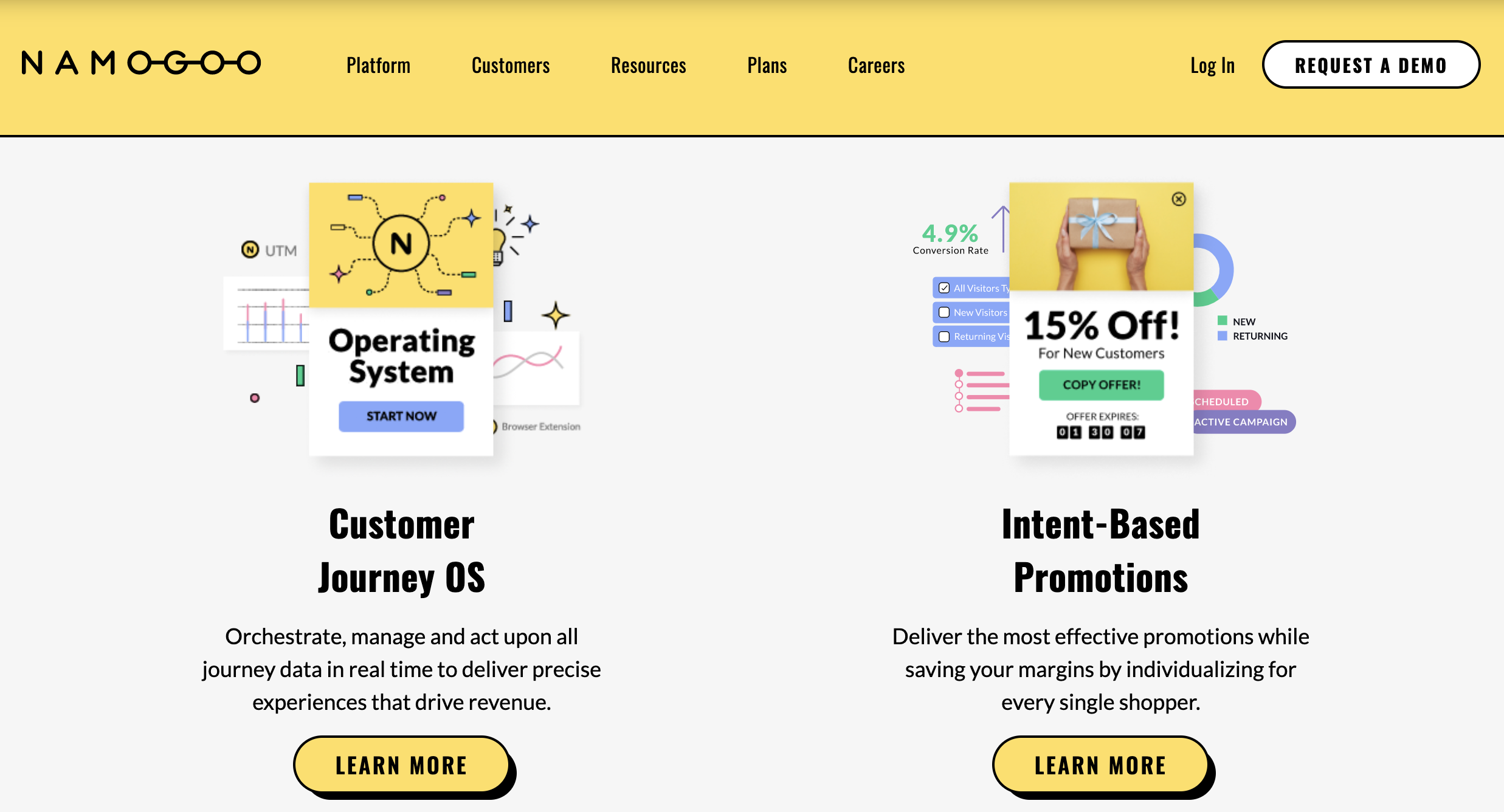 6. Show Delivery Times
Letting your customers know when to expect a delivery increases conversion rates, according to a survey by Econsultancy.
Everyone likes being certain, and showing the expected delivery time lets them envision receiving and using the product. The best way to show delivery time is, instead of using days, for example, "you will receive it in two days," use the exact delivery date, such as "you will receive it on Monday."
7. Same Day Delivery
It goes without saying that the faster you deliver, the higher the conversion rate. Customers want convenience and continue to expect faster and cheaper deliveries. According to a study, 80% of the respondents wanted same-day shipping options. Few eCommerce businesses offer one, so offering same-day delivery could significantly improve your conversion rates.
You can deliver on the same date using PrettyDamnQuick. This smart delivery app allows you to fulfill and ship customers' orders effortlessly for less time and money and without dealing with the logistics.
8. Brand Refresh
A brand refresh puts your brand in front of the minds of customers and prospects. When your customers and prospects are thinking about your brand, they will naturally buy from you compared to your competitors.
A brand refresh is practical if your conversion rates are falling because your relevance is reducing. Sharpening up your company's visuals and messaging to prevent it from becoming outdated could improve conversion. It also indicates how your company grows and changes with your customers, building loyalty.
9. Quiz Functionality
You can improve conversion by asking your visitors questions that collect data and matches them to the right products and recommendations. They capture the prospect's attention and keep them engaged while determining what they really want. The alternative is to have them sift through many products, which could lead to analysis paralysis and lower conversion.
An example of how eCommerce quizzes can improve conversion is ZenniOptical's quiz, which generated 29.5k lead conversions.
https://www.octaneai.com/customers/chaz-deanYou can also use the quizzes to collect data to improve personalization. Several tools can help you create quizzes very fast. Octane AI for Shopify Stores allows you to create effective quizzes without any coding knowledge, among other functions. Using it can significantly improve your commerce conversion rates.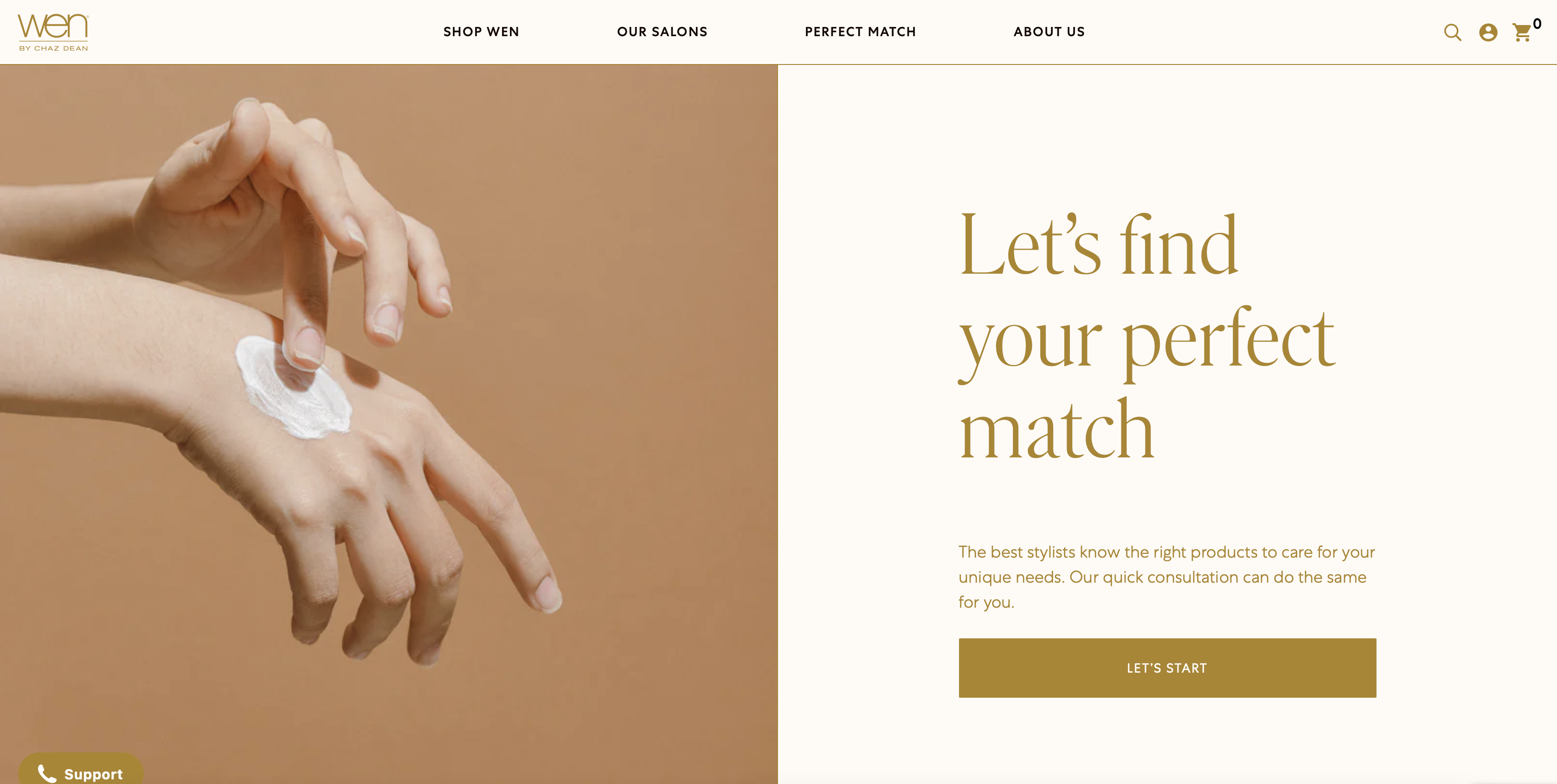 10. Email & SMS
Email and SMS marketing can be a very effective conversion strategy in eCommerce. If possible, capture the emails of your traffic or phone number and add them to your mailing list. Just be careful to ask them at the best possible time to increase their chances of giving it to you.
If they need more than one site visit to convert, you can use email and SMS to nurture them to conversion as they move down the sales pipeline. You can also use it to reengage cart abandoners to remind them or provide incentives to convert.
Even after conversion, you can send them messages of promotions, updates, or even educational material. It allows you to build long-term relationships with your customers. Two of the best tools you can use to create effective and personalized email and SMS campaigns are Klaviyo and Attentive, respectively.
11. AI-Based Search
To ensure your visitors find the products they are looking for through search, incorporate AI-based search. It utilizes various technologies, such as machine learning to understand better what the user wants and deliver it to them.
For example, if a search results in ten products, but the user only viewed two at the middle and bottom of the list, the AI will push them to the top of the search engine. This is a simple explanation of how they work, but they are more complicated and effective at boosting commerce conversions.
Hire a Digital Marketing Agency to Take Your Brand to the Next Level
Ecommerce is incredibly competitive, so every site visit counts. To reduce your bounce rate and boost conversions, your efforts shouldn't end at driving traffic to your site. You must take the above steps to ensure your leads convert, or all the resources you spend on marketing will be wasted.
In addition, you should take a holistic approach to boosting conversions, which involves numerous aspects that it can be quite frustrating. It may help to have a digital agency specializing in eCommerce at your corner.
Trellis is a full-size digital agency that can help you drive traffic, engagement, and conversion. We offer a comprehensive suite of services that include web development, web design, strategy consulting, and customer acquisition marketing.
Contact us today to learn how we can take your brand to the next level.