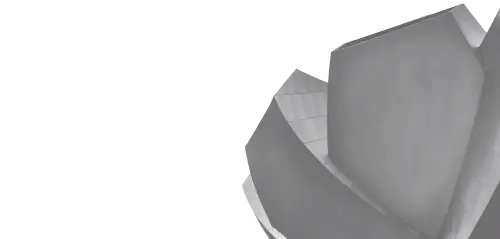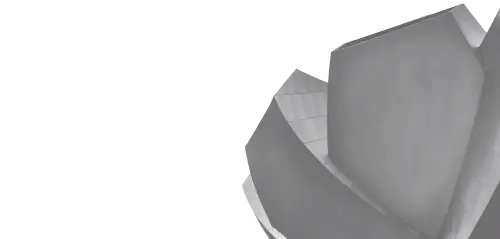 Seamlessly Integrate
Magento 2 Infor Integration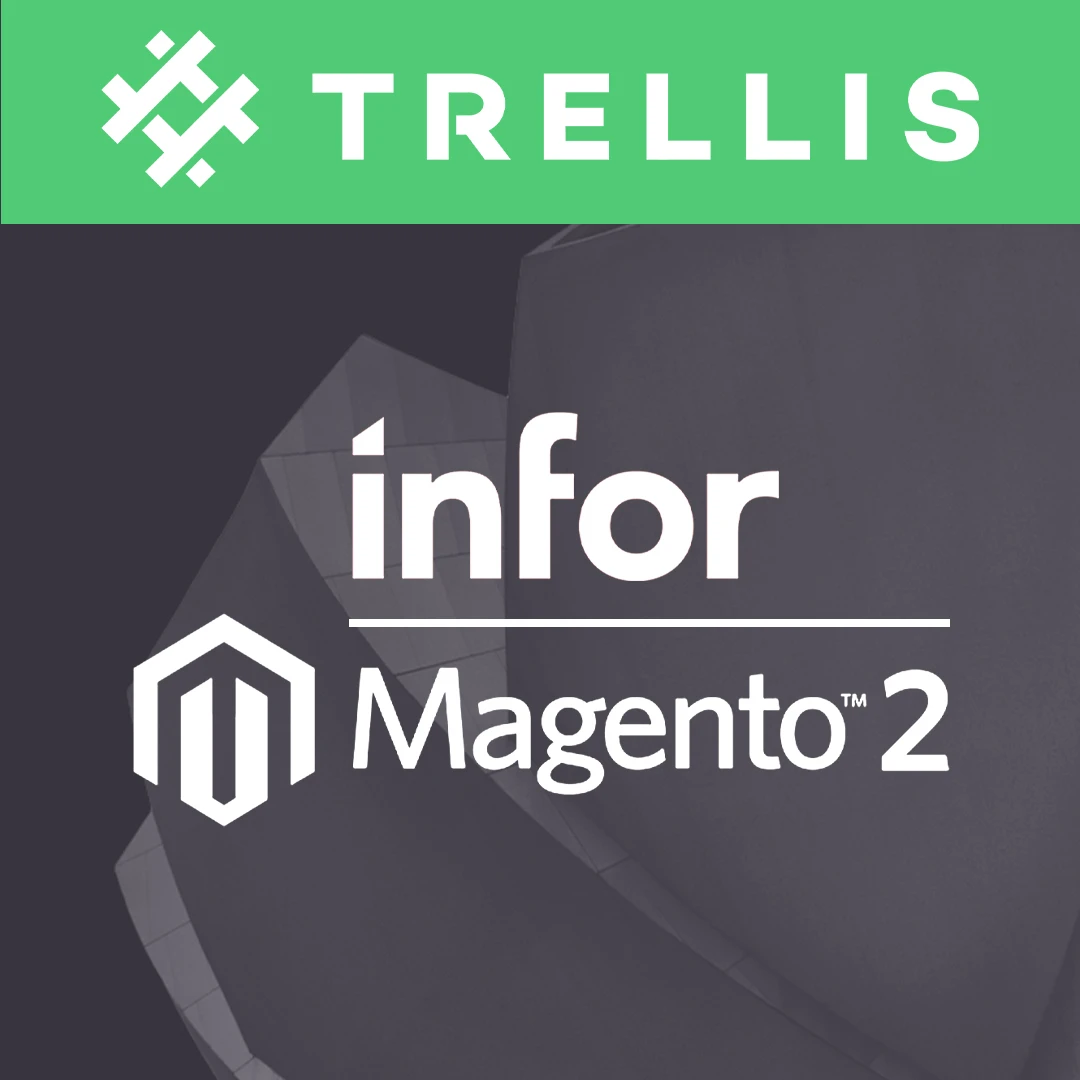 Magento 2 Infor Integration
Trellis and Expertek have worked together to building the leading Magento 2 Infor integration that allows B2B companies to seamlessly sync customers, orders, products, shipments, and price data between Magento 2 and Infor via real time API's. We have followed Magento and Infor best practices to ensure we have built the leading connector solution on the market. This product is designed to work with all Magento 2 versions and Infor Cloudsuite and SX.e.11 infor versions so that we can combine two best of bread products to create an incredible B2B buying experience for our customers.
General Features Overview
We have built the connector so that you can do all key operations in Infor and key eCommerce processes in Magento without having to manually sync data back and forth or duplicate processes.
Customer & Address Sync
We will seamlessly sync customers with the ability to add new customers as an option. We can also allow syncing of address books so that customers can have updated ship to locations for their potential areas of purchasing.
Taxes & Add On Charges
Not every product is simple and may require special taxes and surcharges for various reasons. We can sync real time information from Infor so that Magento captures the correct taxes and add on charges during the buying experience.
Order Entry & Order History Sync
Arguably the most critical information to pass from Magento and eCommerce to Infor are the orders customers place. We will pass all order information from Magento to Infor and display all orders customers have placed offline or online so that customers can see their full order history on the Magento website.
Shipping Updates Sync
Infor is a great system for ensuring your orders are fulfilled. Magento will consume Infor data so that shipping updates are provided to the customer throughout their online ordering experience.
Price & Inventory Sync
Pricing is complex in the B2B world. We will provide real time pricing and inventory updates to ensure that your products are being sold at the right prices and your clients know when products are in stock.
AR Balance & Transaction History
Allowing companies to view their accounts receivable balance to know how much is owed is important in there ability to make smart purchases. We will integrate Infor data to Magento so that customers can view their data and know what is left to pay on their credit balance.
Designed for CloudSuite & SX.e 11 / Pre-11
Exclusively use CSD/SX.e API and ION BODs for communication. Integration services are cloud-based and multi-tenant. Bidirectional communication
Rapid deployment
Integration services only require account configuration and security credentials. CSD extensions and context application. A magento extension is available for easy installation to Magento.
No Manual Entry
This is a fully integrate API based solution so that you can seamless sync data between both systems without manual entry.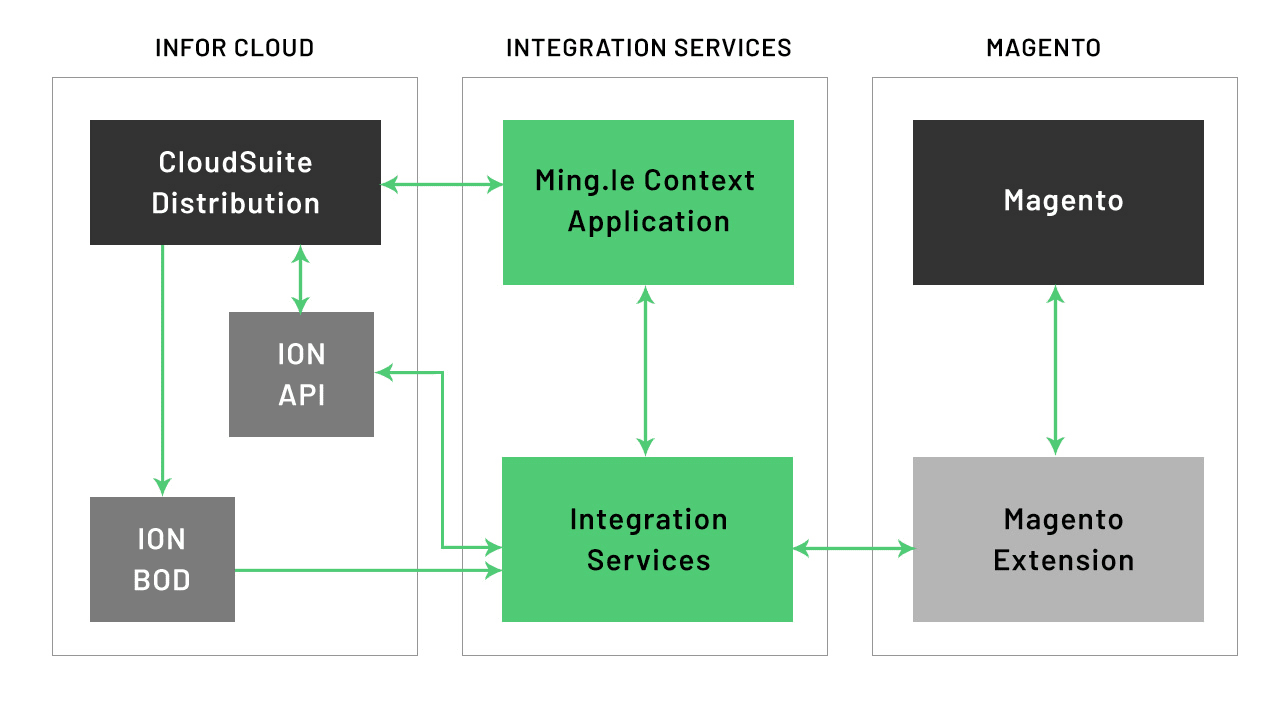 Integration Overview
This is a bidirectional workflow between Magento & Infor. Magento to CSD: A Magento extension makes API requests to integration services. Services makes API calls to CSD and returns results. E.g. order entry from Magento to CSD. CSD to Magento: Integration services receive BOD from ION cloud environment. Services make API calls to Magento to update information. E.g. order ships from CSD to Magento