Shopify+ Redesign & Implementation
Miniluxe
Trellis completely revamped the Miniluxe website on Shopify and is working on the next phase to revamp their booking process.
Project Brief
When you experience MiniLuxe, you're getting the ultimate standard for clean. No toxins, no fumes, no questionable ingredients. Miniluxe's holistic approach to self-care has amassed quite a following over the years, and their award-winning product lines helped the business get off to a hot start. Minluxe had developed a winning formula in more ways than one as they quickly grew to be a leading name in skincare, makeup, and home goods throughout New England and Southern California. With a budding brand and and understanding of the power of eCommerce, Miniluxe wanted to create a digital experience that unified the reach of D2C eCommerce & digital brand with their in-person studio services. The new Miniluxe experience needed to match the quality they deliver through their products, in their 20+ studios, and across all customer touch points.
The old site was a bit of a Frankenstein with pieces on both Shopify and aWordpress and their entire technology stack needed to be future-proofed. With over 20 physical locations throughout the United States, Miniluxe was seeking a partner to implement an updated eCommerce website in order to modernize its technology and processes, enabling further eCommerce sales on site.  Miniluxe's long term visions transcended beyond traditional eCommerce cart functionality, so Trellis and Miniluxe teamed up to create an immersive Shopify experience that bridges their eCommerce store with a booking platform for all of their physical studio locations. Not only did Miniluxe need best in class Shopify design work, but they needed senior frontend developers to help custom develop the booking portal and solutions strategists that have been through these types of implementations before.
Platforms
Shopify
Services
Design
Development
Integrations
Strategy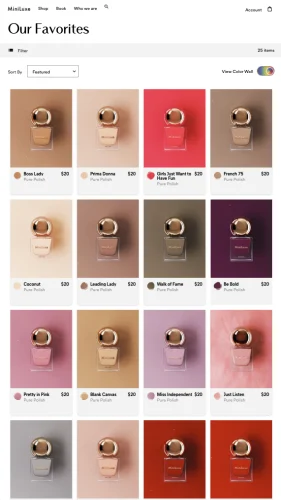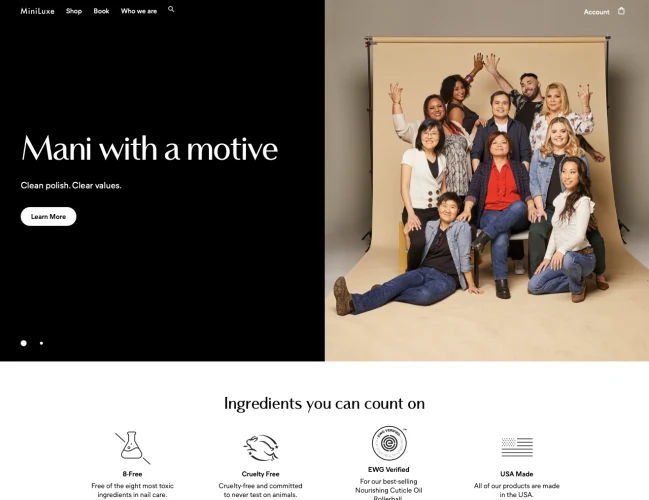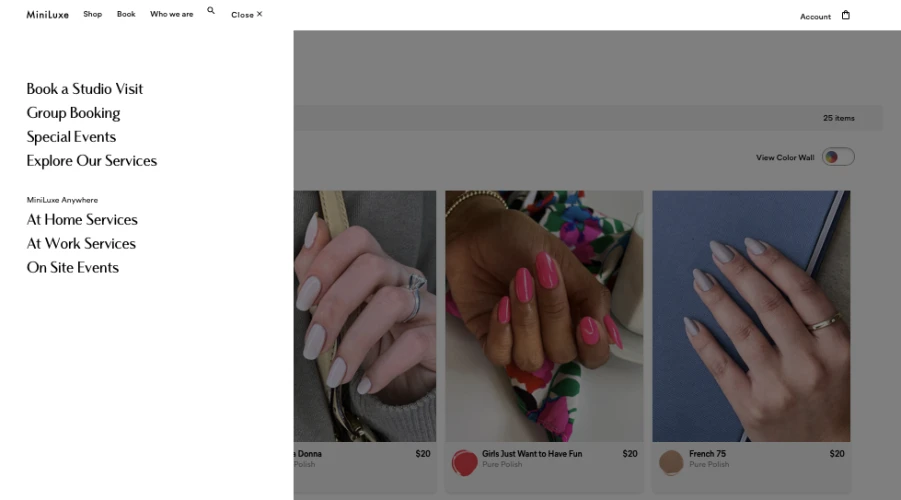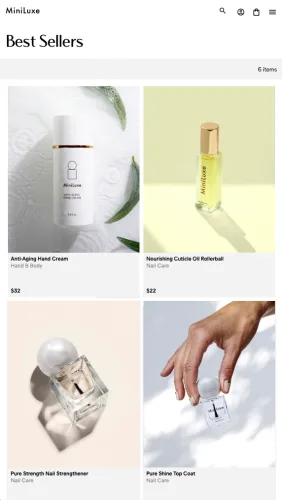 Results
Trellis completely revamped the Miniluxe website on Shopify and is working on the next phase to revamp their booking process. We successfully launched the updated eCommerce store on a new Shopify 2.0 theme and rolled out the MVP of the booking portal. Miniluxe customers are now able to shop for products, explore in-studio services like manicures, pedicures, color lab nail creation,  waxing, etc, and instantly book the services through a unified experience.
Minluxe's new website includes a fresh design, a modern theme with enhanced mobile browsing, page load times, and functionalities for all brand revenue streams. Our teams are currently working on the next phase of the build and will be launching soon. Stay tuned!
View Project