The holiday season comes with gifts and the new year begins with goals. This holiday season so does Magento! In December, Magento gave merchants the gift they were hoping for with the release of Magento 2.2.2. They also laid out a plan for what we can expect in future versions. But before we go over that, let's review what came in the most recent version:
MAGENTO COMMERCE 2.2.2
Magento Commerce 2.2.2 brings some changes to improve efficiency and help accelerate sales growth. The new features provide merchants with improved insight into their online business and streamline the customer experience. The M2.2.2 adds and updates include:
Advanced Reporting
Magento Shipping
Instant Purchase Checkout
Dotmailer Bundling
Magento Functional Testing Framework
With the expiration of Amazon's one-click ordering patent, Magento 2.2.2 offers the 'Amazon-like' experience as a standard feature. Instant Purchase provides returning customers with a faster checkout experience by using previously-stored payment and shipping information to skip checkout steps.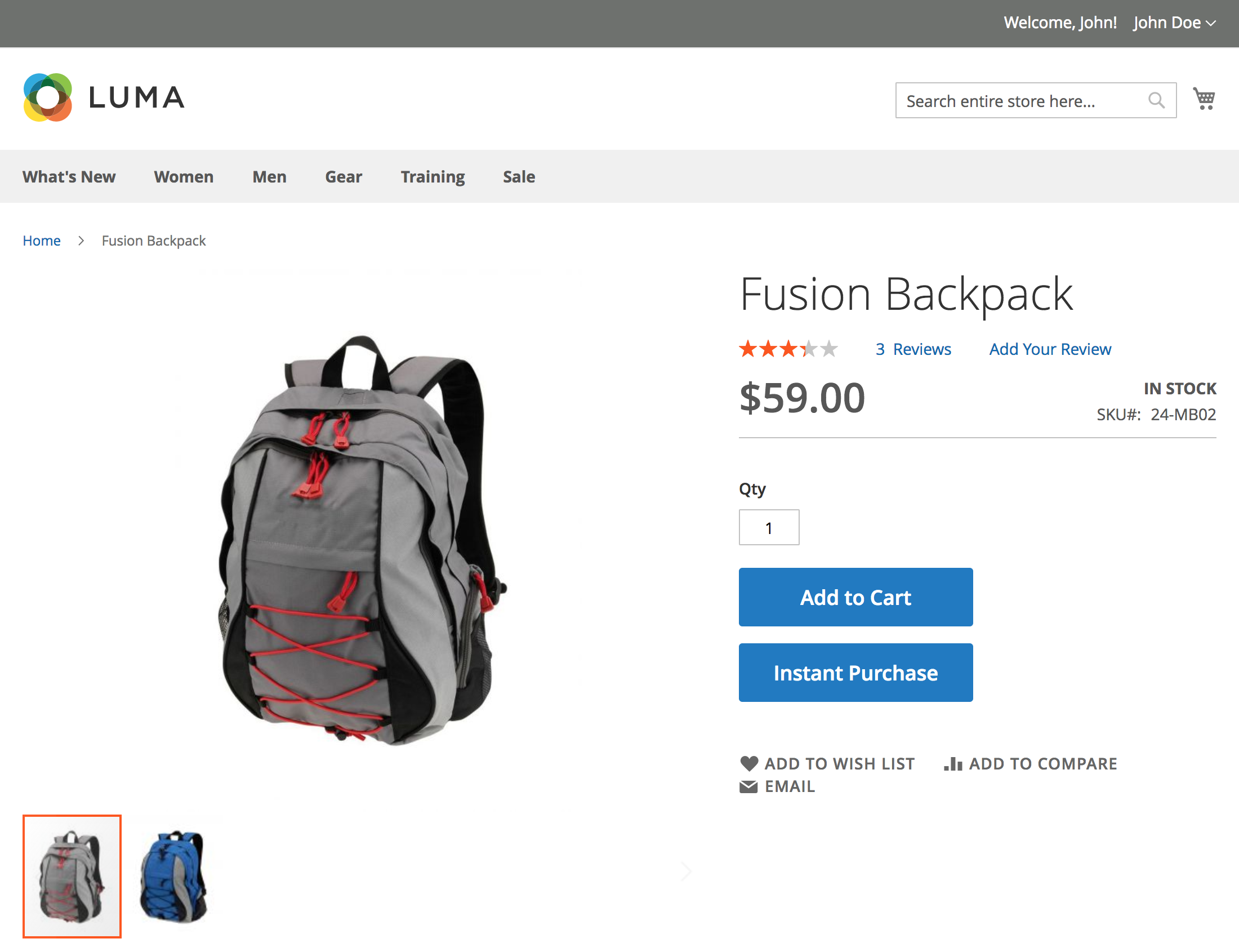 When customers select the "Instant Purchase" button, they are immediately taken to a confirmation page where they can place the order. There's no need to enter an address, payment preference, or shipping option. Magento will do that for you.
Advanced Reporting in M2.2.2, gives you access to a suite of dynamic reports based on your product, order, and customer data, with a personalized dashboard. The default module is a step towards better reporting, but Magento will need a few more iterations to get it up to speed with third-party reporting.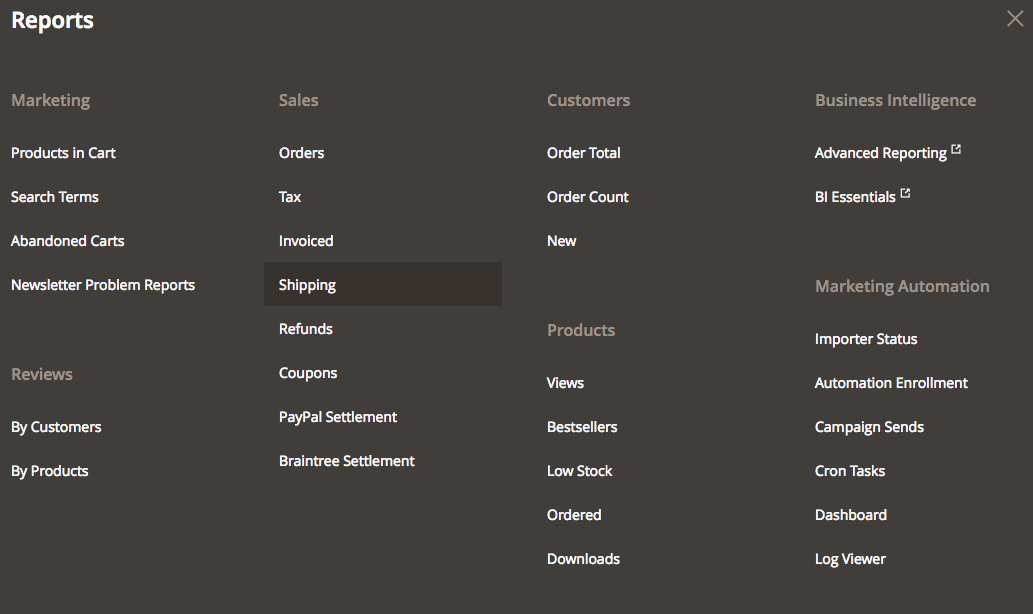 Signifyd is also an integrated feature in the M2.2.2, which immediately reviews the order in real-time to determine whether it's a legitimate customer or fraudulent purchase attempt. With this integration, Magento is the first e-commerce platform to elevate its merchants beyond fraud scoring tools and eliminate their liability for fraud with Signifyd's Guaranteed Payments.
Dotmailer automated email platform is a new integrated feature that ensures email subscribers stay in sync and critical customer/retail data is available. The integration offers the full capabilities of Dotmailer, plus the added benefits of single sign-on and access to an unparalleled level of data.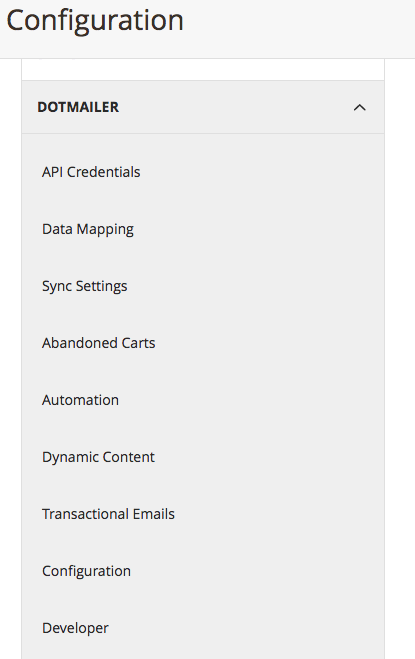 Magento Functional Testing Framework (MFTF) is replacing the Functional Testing Framework in M2.2.2 and future releases. To write tests in FTF, you have to learn both PHP and XML. For MFTF, you write exclusively in XML. The MFTF makes test creation more manageable and customizable, allowing you to focus on growing your business.
To learn more about Magento 2.2.2 and its expanded features, you can watch their webinar or read about their useful extensions here.
MAGENTO 2 ROADMAP
Magento developers are not expected to stop with M2.2.2 and already have a plan ready for the new year. The Magento Commerce Near-Term Roadmap was released at the MageConf in December.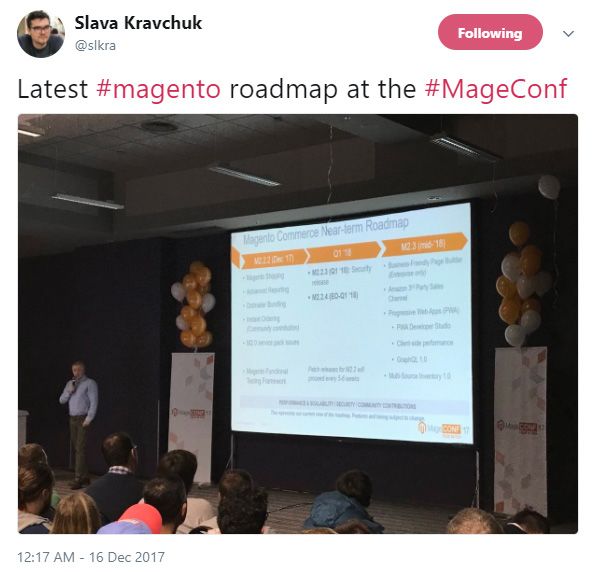 The release included information about Magento 2.2.2 – 2.3 versions. If you're having trouble reading from the photo, don't worry we've broken down the news for you!
Quarter 1, 2018
Magento 2.3 (Q1 '18): Security Release
Magento 2.4 (EO-Q1 '18)
Patch releases for M2 every 5-6 weeks
Magento 2.3 (mid-2018)
Progressive Web Apps (PWA)

PWA Developer Studio
Client-side performance
GraphQL 1.0

Business-Friendly Page Builder (Enterprise only)
Amazon 3rd Party Sales Channel
Multi-Source Inventory 1.0
For now, this is all Magento is sharing. However, this probably won't be all Magento is releasing this year. Here's what to expect in future versions: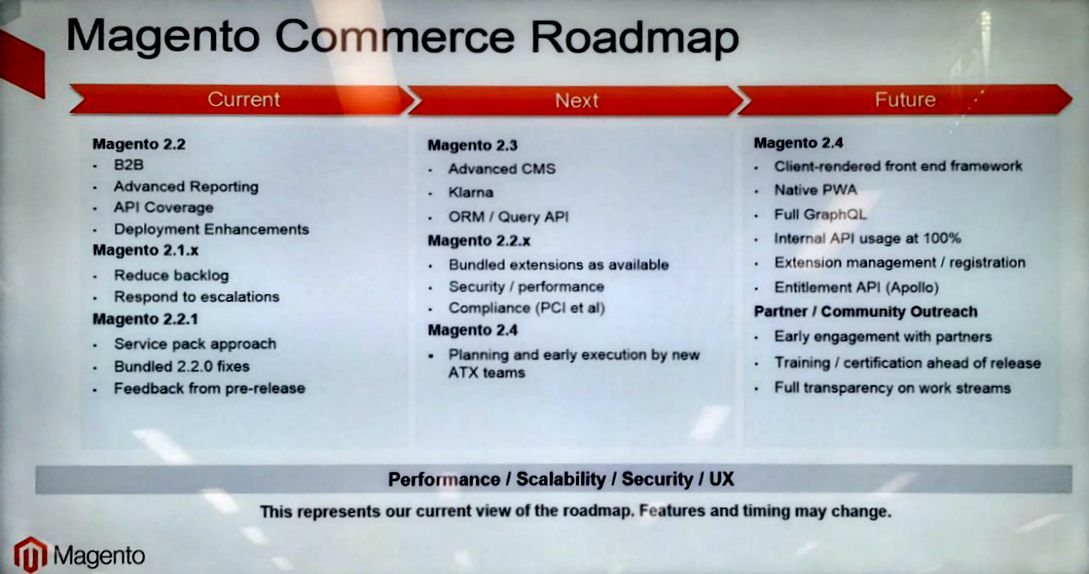 MAGENTO 2.3
The release date of the Magento 2.3 update is still unknown, but there are known features and speculation.
In mid-2018, Magento will introduce Progressive Web Applications (PWA) to the platform with Magento PWA Studio. The suite of tools will allow users to build online stores as PWA's and serve as a learning tool for developers.
PWAs are easily identifiable by search engines, URL access, and require no manual updates to display the most recent version. The applications also allow same app access across all mobile devices without any loss of functionality.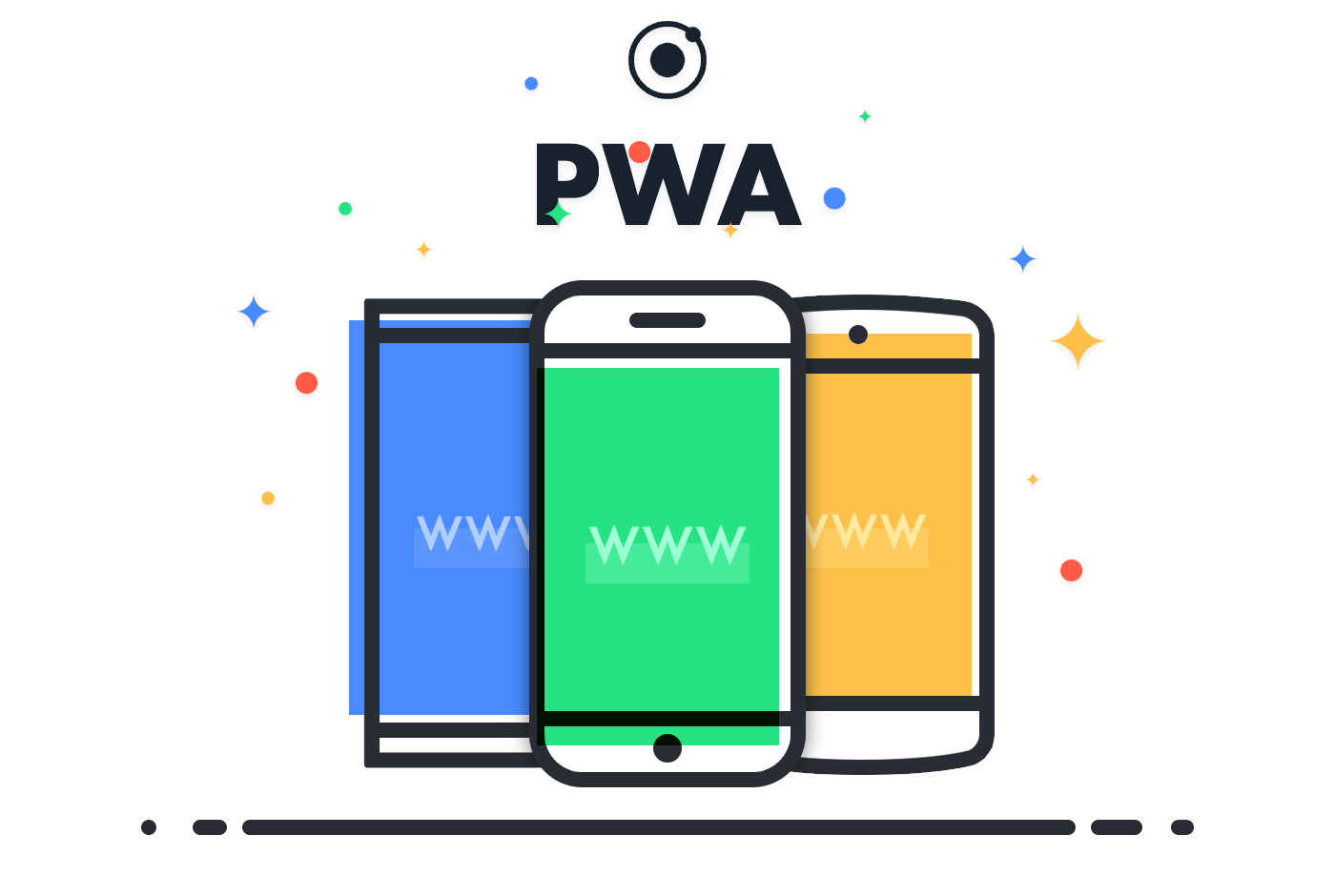 Magento has said that they are directing almost all of their early-design thinking to the developer experience and developer discoverability. Magento is making this their priority. The studio will introduce the new GraphQL 1.0 API style to the API collection.
For more information, you can read about Magento PWA Studio here.
For those of you waiting for BlueFoot technology integration, it will be a part of the core code & standard functionality in M2.3. BlueFoot is a convenient Content Management System (CMS) and Page Builder module that allows non-developers to create customized pages without having to write code.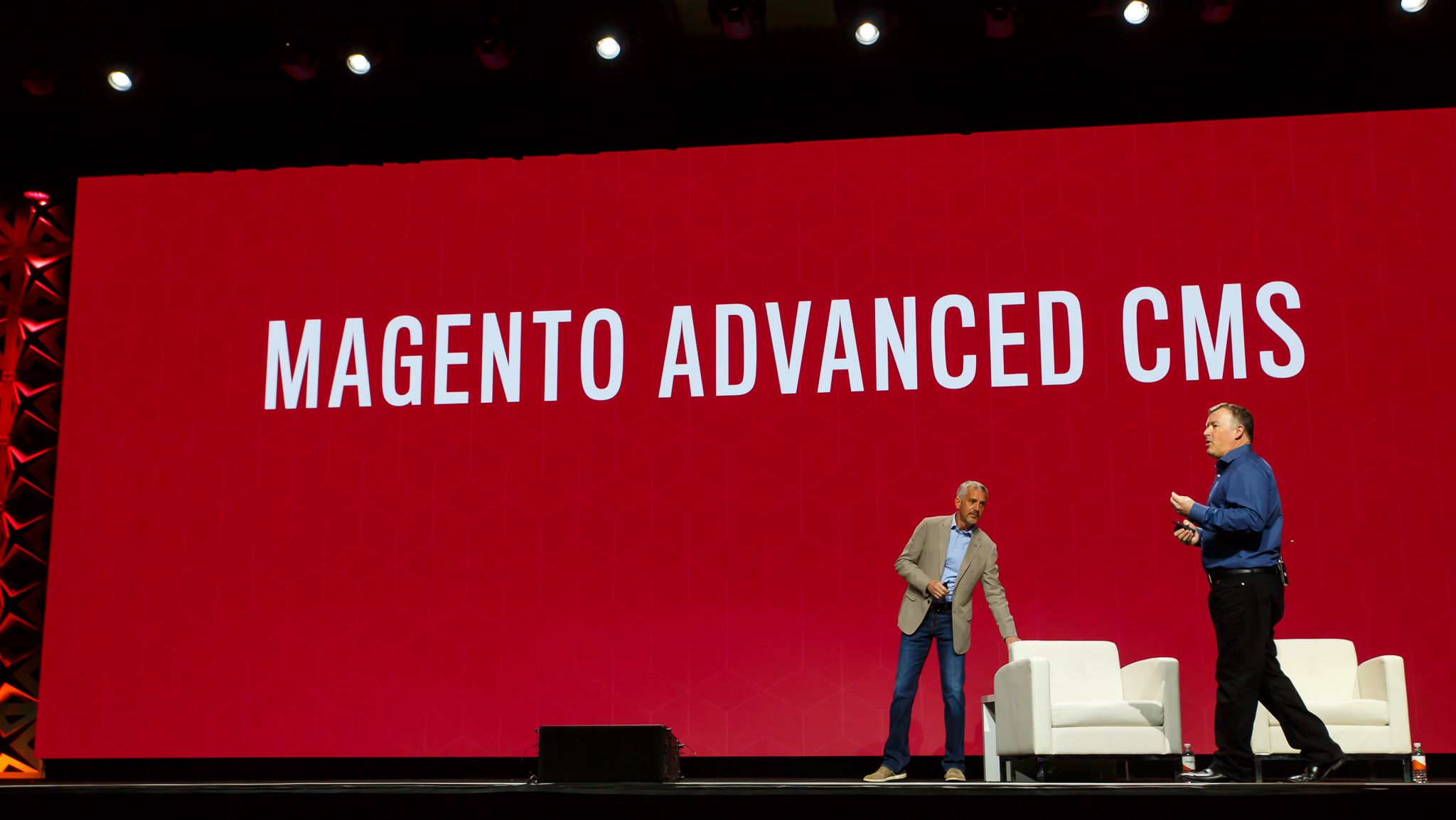 This module is capable of managing everything from product descriptions to blogs. Therefore, the expectation is that M2.3 will have a default blog module.
To learn more, read about the Magento 2 BlueFoot integration here.
There is speculation of expansion in Magento's payment options with Klarna integration. The service provides advanced payment options that help increase the average order value. Customers have the freedom to choose instant checkout with address only, payment within 30 days after delivery, or spread payments. Klarna is safe and trusted by over 60 million customers.
Magento is expected to integrate an Amazon 3rd Party Sales Channel. As of now, Magento only integrates with eBay, primarily because eBay purchased Varien (develops Magento). The integration will allow you to sync your store and product data for sales on Amazon.
Multi-Source Inventory 1.0 will also be in the update. The service allows merchants to manage all sources where the product is stored for a better understanding of each of their stock's levels.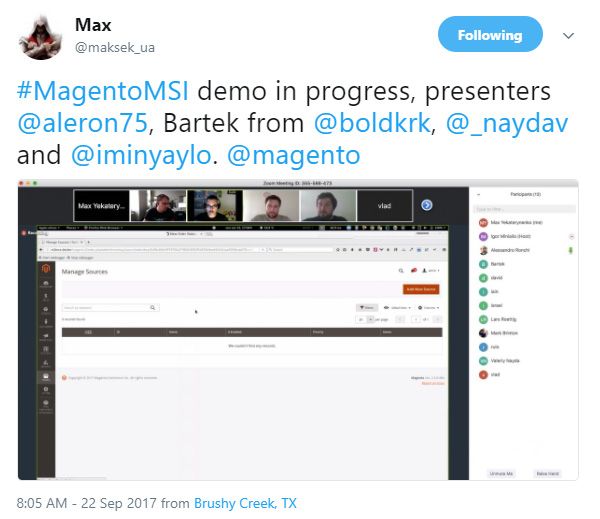 To learn more about Magento's Multi-Source Inventory, watch this presentation.
MAGENTO 2.4
Magento Commerce 2.4 plans for further development of the advanced reporting feature. The existing reporting solutions and tools will improve within several additional releases. Planning and early execution by new ATX teams should lead to fewer bugs and better user experience. A client-rendered frontend framework also sounds helpful for streamlining a better user experience.
Magento 2.4 will include the best of the web and apps with Native PWA. Since the Magento PWA Studio will release in M2.3, this feature isn't much of a surprise but is still very exciting!
Full GraphQL will also be found in the update to provide a complete description of the data in Magento APIs. Better data description leads to easier APIs evolvement over time and enables more powerful developer tools. Internal API usage at 100% probably due to the Full GraphQl feature.
Merchants may be getting more control over modules with advanced extension management and registration. Entitlement API (Apollo) can also be expected in the update. Unfortunately, no additional information is available at the moment.
EVENTS
Magento will be hosting four events this year, that might come with exciting developments from their developer's team.
CLOSING
Magento is dedicating themselves to making improvements in consumer convenience for 2018. The focus will be on refining purchases of products, on any device, easier, faster, and more intuitive for consumers, on any channel, delivered whenever and wherever.
That's a wrap for today. Check back at the Trellis blog for updates!
Let us know what you think!
SaveSave